Opera desktop browser integrates TikTok app into it's sidebar panel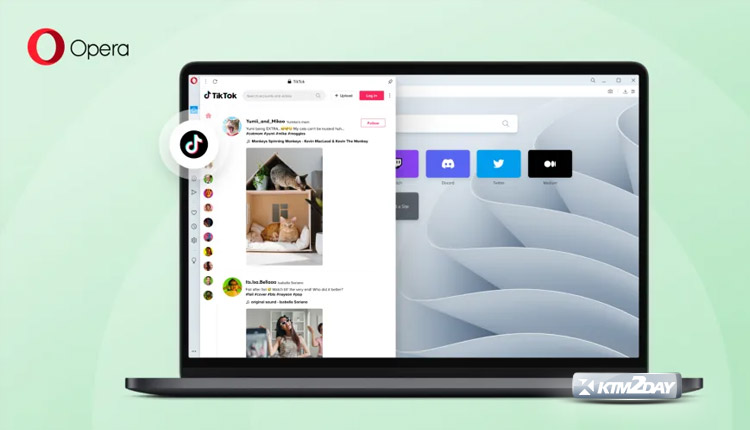 Today, web browser maker Opera said that it had integrated a TikTok feature into the sidebar of its desktop browser.
This feature enables users to browse through TikTok videos and upload material without opening a different app or tab.
Users of Opera must right-click on the browser sidebar and navigate to the Messengers area to enable the capability. Once enabled, users can navigate through their TikTok feed on the left-hand side of the screen by opening the sidebar, then go back to what they were doing on the main page.
Although introducing sidebar features is nothing new, Opera asserts that it is the only browser that has TikTok integrated into its sidebar.
Instagram, WhatsApp, and Twitter are just a few of the social networking sites and messengers that Opera has already included to its sidebar.
"Typically, people who have started using the messengers and social media networks offered through Opera's sidebar do not want to go back to a world without them," said Joanna Czajka, product director at Opera.
Additionally, according to Opera's poll, users between the ages of 18 and 35 expressed a strong desire for the integrated TikTok feature, the business told TechCrunch. TikTok is used by 54% of American Opera users in the 18–25 age range.
However, considering how many users prefer the mobile app, Opera's decision to introduce a built-in TikTok feature is intriguing.
According to a new Sensor Tower survey, TikTok is the app with the largest global revenue.
Over 175 million people had downloaded the social video app as of the first quarter of 2022.
Additionally, data.ai, an app intelligence company, discovered that consumers in over 12 regions around the world spend four to five hours per day using apps, with TikTok ranking among the top applications in terms of downloads, consumer spending, and monthly active users.
Therefore, even while it's unlikely that the billions of TikTok users will utilize the less popular Opera browser to pass the time between jobs, many Opera users will probably find the new functionality amusing.
"TikTok has evolved from a platform with lots of short hilarious videos to a source of news, inspiration, and entertainment. "Opera is addressing users' requests to have TikTok at their fingertips with this release", Czajka stated.