Samsung announces Super-fast SSD with PCIe 5.0 reads up to 13 GB of data per second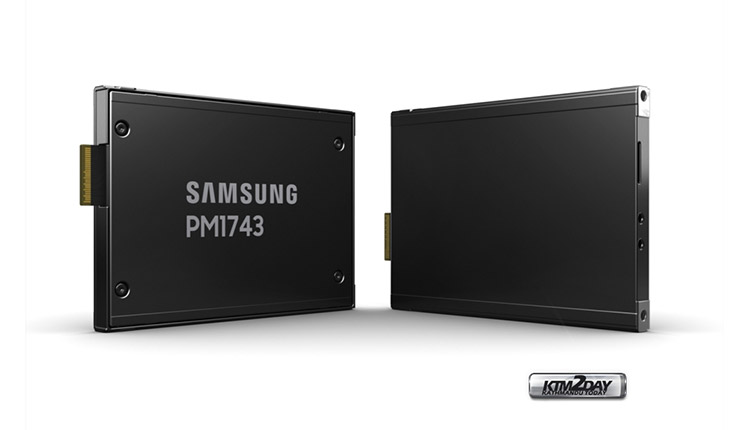 SAMSUNG has unveiled its first PCIe 5.0-compliant solid-state drive (SSD), the PM1743. In addition to double file transfer speeds, this new iteration of the device is 30 percent more efficient than prior models, according to the manufacturer's statement.
A business-oriented SSD, the Samsung PM1743 is not suitable for personal usage. It will be some time before new generation SSDs can be purchased at reasonable prices armed with PCIe 5.0 technology. Even PCIe 4.0 drivers are pricey at the moment.
Those that decide to use PM1743 on their servers can look forward to extremely fast file transfer speeds as well as significant energy savings.. In terms of speed and efficiency, Samsung claims that PCIe 5.0 SSDs are twice as fast and 30% more efficient than PCIe 4.0 ones.
The Samsung PM1743 boasts 13 GB/s read and 7 GB/s write speeds, which are more precise. Meanwhile, the Samsung 980 Pro can read files at up to 7 GB/s and record data at up to 5.1 GB/s, compared to the previous generation Samsung 980 Pro.
In addition, Samsung ensures that PCIe 5.0 delivers 608 MB/s per watt of throughput. Those companies with high-capacity servers or those that deal with a lot of data on a daily basis could benefit from this reduction in energy use.
Samsung PM1743 versions with 2 TB to 16 TB of storage will be available in the first quarter of 2022. As a result of SSD's business focus, no pricing details have been made public. Submissions for more information should be made at CES 2022 in January.
Adata is also producing PCIe 5.0 SSDs
Samsung is not the only pcie 5.0 SSD manufacturer. Adata is also producing new generation drivers, only for home use and with higher speeds compared to the Samsung PM1743. Titled Project Nighthawk and Project Blackbird, these SSDs should reach up to 14 GB/s of reading and 12 GB/s of recording, and will have several sizes, up to 8 TB.
Like Samsung, Adata will show more details about PCIe 5.0 SSDs during CES 2022 on January 5.