Samsung partners with Ncell to bring phone exchange offer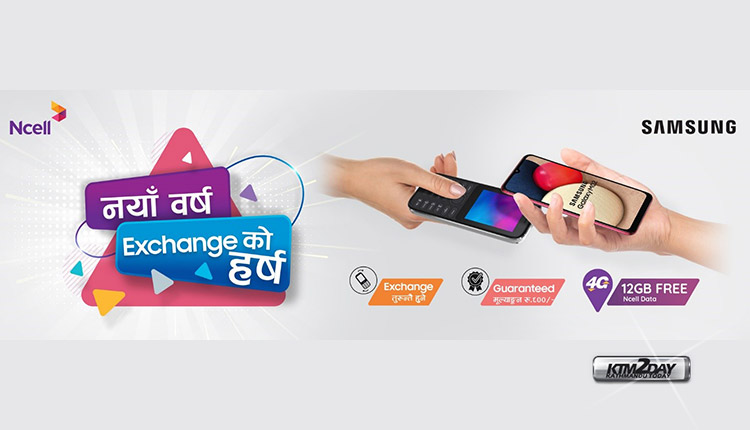 Samsung, Nepal's most trusted smartphone brand, in collaboration with Ncell, has come up with a plan for customers to easily replace their old bar phones, i.e. feature phones, with new 4G smartphone.
Under Ncell's 'Fast Forward Life' campaign to drive the generation forward with digital power, customers get 1 GB of Ncell data every month for 12 months while Samsung on it's part will provide customer with a new 4G smartphone.
The New Year Plan 'New Year, the Joy of Exchange' is in line with Samsung's commitment to contribute to making Nepal digital. At the same time, customers can connect themselves with unlimited digital possibilities by experiencing the best smartphones.
Bundled with Ncell's data, Samsung believes that this plan will add excitement and happiness to the customer's life on the occasion of New Year 2078. In this exchange plan, customers can get Samsung's Galaxy M01 Core and Galaxy M02 smartphones.
The Galaxy M01 Core has 1 GB RAM and 16 GB storage capacity. In the Galaxy M02, customers can get 2 GB RAM and 32 GB storage or one of the two sets with 3 GB RAM and 32 GB storage capacity as per their requirement. The Galaxy M01 Core and Galaxy M02 sets have an interface where customers can easily operate a smartphone. As a result, even customers who have not used a smartphone before can easily use these handsets.
Customers can immediately replace a new smartphone with any old bar phone they have. Two basic conditions will apply to a new phone instead of an old one. The first, old mobile which is brought for exchange should be able to be switched on. The battery, screen and body of the phone should be in good condition. If these two conditions are met, the customer's phone will be properly valued and a guaranteed Rs. 800 will be provided.
The company has stated that the scheme will be operational for a limited period starting from Baisakh 1.