Get ready to see more smartphones with 16GB of RAM this year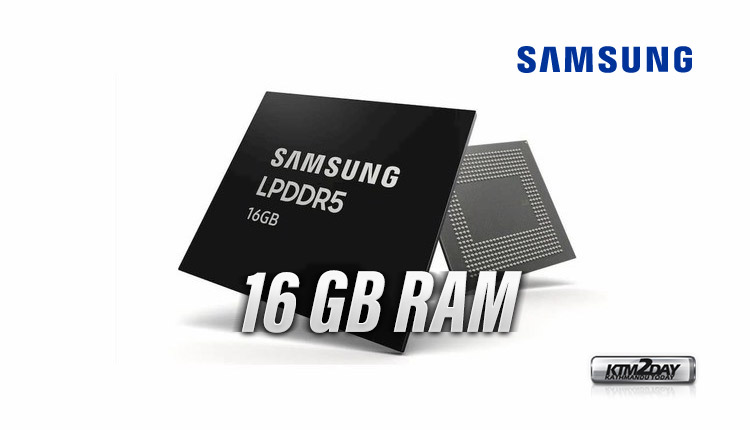 Samsung launched the first smartphone to the market equipped with 16GB of RAM this year in it's flagship device S20 Ultra model. Well, the company has just announced that it is preparing to mass-produce this type of memory.
This means that more smartphones will arrive with this feature inside. RAM memory is really important in a smartphone to give it more fluidity in its use.
Following mass production of the industry-first 12GB LPDDR5 in July, 2019, the new 16GB advancement will lead the premium mobile memory market with added capacity that enables enhanced 5G and AI features including graphic-rich gaming and smart photography.
Samsung's 16GB LPDDR5 mobile DRAM package consists of eight 12-gigabit (Gb) chips and four 8Gb chips, equipping premium smartphones with twice the DRAM capacity found in many higher-end laptops and gaming PCs today.
16GB memory will be a priority on smartphones with 5G
This huge amount of RAM seems exaggerated today, however, with the introduction of 5G in our world, RAM will play an important role in the memory management of smartphones.
That is why Samsung believes that this will be an important business. Samsung not only produces majority of components for its smartphones but also sells them to other manufacturers. The company manufactures it's own displays, RAM memory and even photographic sensors.
Get ready to see even more expensive smartphones
The first smartphone with 16GB of RAM, Samsung Galaxy S20 Ultra, hit the market for around $1500. In other words, the price of this type of components is not yet affordable. This means that features like 16GB of RAM will be exclusive for super high-end flagship models.
At a time when we are seeing the price of mobile devices rising, many are wondering where this will end. Although due to technology advancement 16GB of RAM (or even 5G) are features readily available but most users do not need such high specification on their daily driver.
It should take a few years before 5G technology is fully available in majority of global markets until then buying a 5G smartphone is like paying more for a feature that you won't be using anytime soon.
Samsung Mobile DRAM Timeline: Production/Mass Prod.
| | | |
| --- | --- | --- |
| Date | Capacity | Mobile DRAM |
| Dec. 2019 | 16GB | 10nm-class 12Gb+8Gb LPDDR5, 5500Mb/s |
| Sept. 2019 | 12GB(uMCP) | 10nm-class 24Gb LPDDR4X, 4266Mb/s |
| July 2019 | 12GB | 10nm-class 12Gb LPDDR5, 5500Mb/s |
| June 2019 | 6GB | 10nm-class 12Gb LPDDR5, 5500Mb/s |
| Feb. 2019 | 12GB | 10nm-class 16Gb LPDDR4X, 4266Mb/s |
| July 2018 | 8GB | 10nm-class 16Gb LPDDR4X, 4266Mb/s |
| April 2018 | 8GB(development) | 10nm-class 8Gb LPDDR5, 6400Mb/s |
| Sept. 2016 | 8GB | 10nm-class 16Gb LPDDR4X, 4266Mb/s |
| Aug. 2015 | 6GB | 20nm 12Gb LPDDR4, 4266Mb/s |
| Dec. 2014 | 4GB | 20nm 8Gb LPDDR4, 3200Mb/s |
| Sept. 2014 | 3GB | 20nm 6Gb LPDDR3, 2133Mb/s |
| Nov. 2013 | 3GB | 20nm-class 6Gb LPDDR3, 2133Mb/s |
| July 2013 | 3GB | 20nm-class 4Gb LPDDR3, 2133Mb/s |
| April 2013 | 2GB | 20nm-class 4Gb LPDDR3, 2133Mb/s |
| Aug. 2012 | 2GB | 30nm-class 4Gb LPDDR3, 1600Mb/s |
| 2011 | 1/2GB | 30nm-class 4Gb LPDDR2, 1066Mb/s |
| 2010 | 512MB | 40nm-class 2Gb MDDR, 400Mb/s |
| 2009 | 256MB | 50nm-class 1Gb MDDR, 400Mb/s |