HTC Smart launched in Nepali market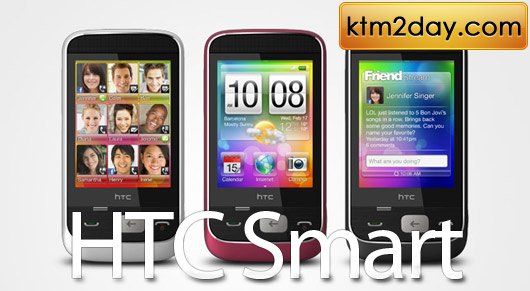 Atlantic Computer Pvt Ltd on Thursday unveiled the all new HTC Smart in the Nepali market. HTC Smart begins with a friendly compact touch design and integrates an intuitive user experience that is centered around HTC Sense, an HTC design philosophy that puts people at the center by focusing on three core areas: Make It Mine, Stay Close and Discover the Unexpected.
HTC Smart enables personal customization of each person's own phone experience. It also provides a quick and easy way to see what friends are up to via various social networks as well as quickly communicating over the phone, through text messaging or email.
This phone utilizes Qualcomm's Brew MP, a popular mobile operating system that enables smartphone devices to be offered at more aggressive price points, providing HTC with the flexibility to deliver smartphone features on devices across multiple tiers.
The new HTC Smart will be available in three colours – Black, White and Pink at all authorized resellers .