Kulekhani water overflows; to help ease power woes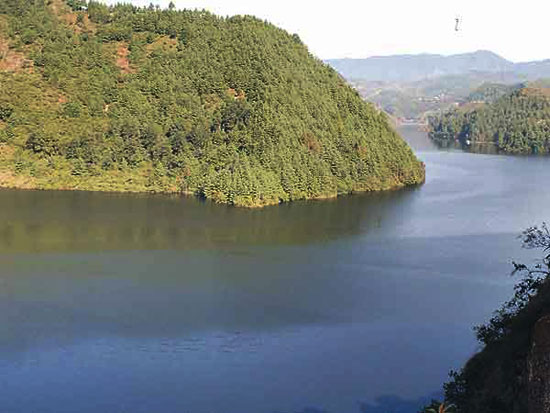 Water level in the Kulekhani Reservoir that feeds two power projects—the 60-megawatt Kulekhani Hydropower Project (KHP)-I and the 32-megawatt KHP II—has gone up to the maximum level in four years.
The water level in the reservoir, the only storage-type project of the country, is now beyond its capacity—1,530 metres. The level was recorded at 1,530.36 metres on Saturday afternoon.
Keeping in view the increasing water level in the reservoir, the KHP management has kept sand-filled sacks on the dam so that the reservoir can store an additional 50 cm of water. They did the same in 2007 when the water level went up beyond reservoir's capacity.
Rabindra Mahaseth, the chief of the KHP, said the level is the highest in the reservoir in the past four years. He said the level went up as both the power projects remained shut since October 3 due to the closure of almost all factories and industries in the country during the Dashain festival. "We have placed sand-filled sacks on the dam that will help store additional 50 cm of water in the reservoir. The water came up to 36 cm till Saturday noon," Mahaseth said. According to him, the water level will gradually decrease once the power projects resume operation with the resumption of factories and industries after the Dashain holidays.
The KHP management said the water increases 5-8 cm daily during the Dashain holidays. Nepal Electricity Authority earlier said the increased water level in Kulekhani that feeds around 92-MW to the national grid will be crucial in minimising the power crisis during the dry season this year.
NEA officials also say power cut hours will go down for now due to the increase in the water level in Kulekhani. (Source:ekantipur)