Construction of Hetauda tunnel to start in Feb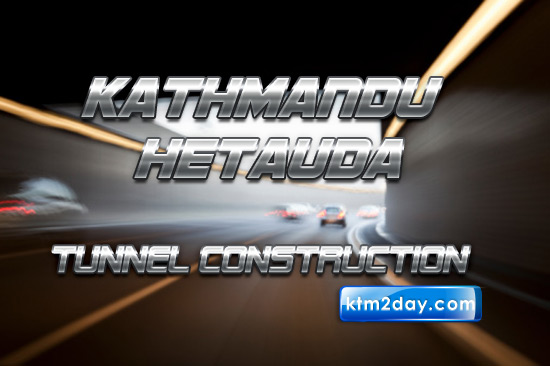 Nepal Purbadhar Bikas Company (NPBC) has said that it will start construction of a tunnel road linking Kathmandu-Kulekhani-Hetauda from February.
The company added that a detailed project report (DPR) of the proposed road was at the final phase of preparation. It plans to build the priority route under the "four P" concept — public, private, people partnership.
NPBC vice-chairman Lal Krishna KC said the preliminary report and environment impact assessment of the underground pathways had been submitted to the concerned authorities. According to him, 95 percent of the DPR preparation has been completed. "It will be completed within one month, and we will start construction from February next year after signing a memorandum of understanding with the government," he added.
NPBC aims to bring the highway, which is estimated to cost Rs 20 billion, into operation within three and a half years. The much-talked about route will provide a one-hour link between Kathmandu and Hetauda via Kulekhani.
Currently, travellers have to take the 133 km Tribhuvan Highway or the roundabout Kathmandu-Mugling-Hetauda route that is 227 km long.
Speaking at a programme organized by NPBC in Hetauda on Saturday, KC said, "We are using advanced technology and equipment from domestic and foreign companies." He also unveiled the technical and progress reports of the project at the event.
Three tunnels with a combined length of 4,670 m have been proposed for the project. According to KC, a 360-m tunnel will link Chobhar and Kulekhani.
Similarly, two tunnels, 3,690 m and 620 m long, will connect Kulekhani and Bhimphedi and Bhainse and Trikhandi respectively.
Shareholders of NPBC include the Federation of Nepalese Chambers of Commerce and Industry, the Federation of Contractors Associations of Nepal, non-resident Nepalis and 50,000 locals from 26 village development committees in Kathmandu, Lalitpur and Makwanpur districts.
The company has acquired 87 hectares of land along the proposed route. NPBC chairman Kush Kumar Joshi said they planned to compensate landowners with shares in the company. He emphasized that the route would be built. The tunnel project has been bandied about for the last two decades.