How to Apply Online for Embossed Number Plate in Nepal?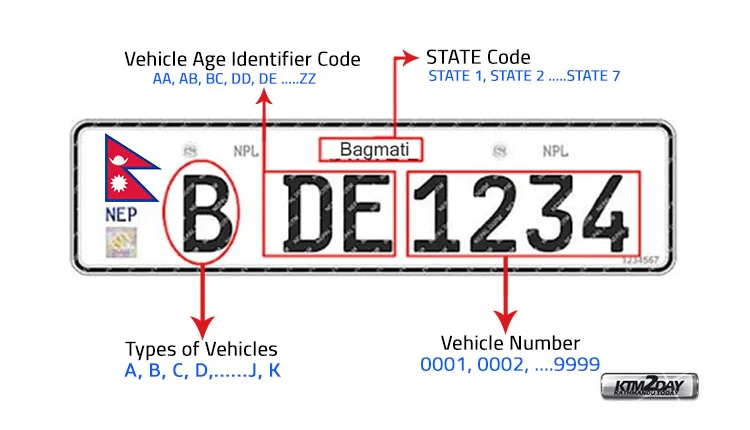 The government has mandated that all vehicles now require embossed number plates. There has been a gradual transition from the current basic number plate to the embossed number plate for all newly registered vehicles.
According to the Department of Transportation, old cars should have embossed license plates as well.
Government of Nepal publication 'Gazette' stated on November 7 that new vehicles registered at Transportation Management Office must have an embossed number plate starting from Mangsir 1.
According to Ram Chandra Poudel, the department's director, newly registered vehicles in all provinces except for provinces 1 and 2 has begun using embossed number plates from Mangsir 1.
As Director Poudel pointed out, embossed number plates have been made mandatory as a means of thwarting criminal activity like car theft and revenue fraud while also to modernize vehicle management.
According to him, embossed number plates will bring those who cheat revenue under the tax net. The number of vehicles registered in the department so far is 3.9 million. The department aims to install embossed number plates on 2.5 million new and old vehicles by Mangsir 2080.
"The project aims to emboss 7.5 million vehicles' number plates. An agreement or a new tender process will be launched after 2.5 million vehicles is completed,"he said.
Six years ago, an agreement was reached to produce 2.5 million license plates. Department and Indian company Decatur (Tiger IT Corporation) reached an agreement six years ago for embossed number plates supply and printing.
Director Poudel says that from Falgun 1, vehicles that have had their ownership changed should have embossed number plates installed. Vehicle registration renewals will also require an embossed connection starting from Jestha 2079.
The fee for embossed number plates has been set by the department based on the type of vehicle. The fee for motorcycles and scooters has been set at Rs 2,500, Rs 2,900 for three-wheelers, Rs 3,200 for four-wheelers, and Rs 3,600 for large vehicles, respectively.
Vehicles without Embossed Number Plate
The Transport Management Act 2054 stipulates that anyone caught driving a vehicle without a real license plate or displaying a fake plate could face a six-month jail sentence or a fine ranging from Rs 5,000 to Rs 15,000.
The traffic police will monitor the renewal process once it is implemented. Those who do not connect will be punished according to the law, 'said Poudel.
So far, 12,000 embossed number plates have been installed in all types of vehicles.
Process of getting a Embossed Number Plate
Vehicle owners interested in having their license plate numbers embossed must first visit DOTM's website (https://www.dotm.gov.np/) and select 'Embossed Number Plate System.' Upon printing the application, the revenue (embossed number plate fee) must be paid to the concerned transportation office.
'Once approved by the office, the embossed number plate will be issued. At the same time, photos should be taken and biometric details should be provided, 'said Poudel.' Then the number plate will be ready. '
According to him, all these works will be completed in one day.
Application Process
New Application for Embossed Number Plate
For online application, open the link https://hsenp.dotm.gov.np/everest-pub
To start, first click on "Get Started".
Now fill out all the details as shown below.
Required 

Documents

:
EMBOSSED NUMBER PLATE CHARGES FEES
Dividing the vehicles into four categories, the government has fixed a fee of Rs 2600 for two-wheelers, Rs 2900 for three-wheelers, Rs 3200 for small vehicles and Rs 3600 for large vehicles for affixing embossed number plates.