iPhone 6 Price in Nepal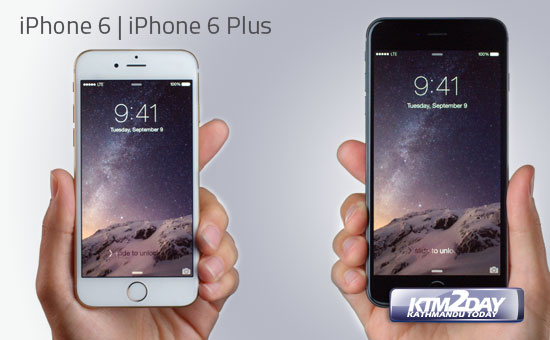 Jan 12,2015 – iPhone 6 has been launched in Nepal and is available through Ncell Centre on 16 GB, 64 GB and 128 GB variants.
These phones can be booked in advance at a down-payment of  Rs. 10,000
Customers can also book a larger iPhone 6 plus and an iPhone 5S , an older model from Apple.
ALSO READ: Apple iPhone SE 2022 Price Nepal

Apple smartphones will be available on monthly plans and the service will be bundled together hence customers who will be purchasing these phones cannot use SIM from other mobile operators.
All iPhone 6 comes with 1GB data every month for 6 months. These smartphones are available in Space Gray, Gold and Silver.
Apple iPhone 6 Smartphone Full Specification
Model – iPhone 6
CPU– Dual-core 1.4 GHz Cyclone
Chipset – Apple A8 (with 64‑bit architecture and M8 motion coprocessor )
Camera – 8 MP With Dula LED Flash | 1.2 MP Front camera
RAM– 1 GB ROM | 16 GB/32 GB/64 GB/128 GB without a card support for external storage
Display – screen size 4.7 inches
Battery –Non-Removable Li-Poly 1810 mAh battery
Single SIM with Nano SIM Compatibility
Support 2G/3G/4G Networks with a speed of HSPA 42.2/5.76 Mbps in 3G
and Up to LTE Cat4 150/50 Mbps in 4G
Sensors : Touch ID, Barometer, Three-axis gyro, Accelerometer, Proximity sensor, Ambient light sensor
Color : Space Gray, Silver, Gold
Operating System : iOS 8 and upgradable to iOS 8.4
Read this : iPhone XS, iPhone XS Max and iPhone XR Launched
Price of Apple iPhone 6
Apple iPhone 6 –  32 GB Gold                 –  NRs. 45,000
Apple iPhone 6 –  128 GB Golden           – NRs. 55,000
Apple iPhone 6s –  32 GB-Silver              – NRs. 55,000
Apple iPhone 6s –  32 GB-Space Gray    – NRs. 55,000
Apple iPhone 6s –  32 GB-Rose Gold      – NRs. 55,000
Apple iPhone 6s –  32 GB-Gold               – NRs. 55,000
Apple iPhone 6s Plus –  32 GB-Gold       – NRs. 65,000
Apple iPhone 6s Plus –  32 GB-Space Gray – NRs. 65,000
Apple iPhone 5s – 16 GB-Grey                    – NRs. 22,500 (N/A)
Apple iPhone SE – 64 GB                            – NRs.52,500
(Space Gray,Rose Gold,Gold)
Apple iPhone 7 Plus –  128 GB – NRs. 76,000
Apple iPhone 7 –  32 GB Rose Gold            – NRs. 65,000
Apple iPhone 7 – 32 GB Gold                       – NRs. 65,000
Image
Model
Price NRs.
iPhone 13 Mini – 128 GB – Rs 120,990
iPhone 13 Mini – 256 GB – Rs 137,990
iPhone 13 Mini – 512 GB – Rs 171,990
iPhone 13 – 128 GB – Rs 137,900
iPhone 13 – 256 GB – Rs 154,900
iPhone 13 – 512 GB – Rs 189,900
iPhone 13 Pro – 128 GB – Rs 174,990
iPhone 13 Pro – 256 GB – Rs 189,990
iPhone 13 Pro – 512 GB – Rs 224,990
iPhone 13 Pro – 1 TB – Rs 255,990
iPhone 13 Pro Max – 128 GB – Rs 189,990
iPhone 13 Pro Max – 256 GB – Rs 205,990
iPhone 13 Pro Max – 512 GB – Rs 239,990
iPhone 13 Pro Max – 1 TB – Rs 274,990
---
iPhone 6 :: Full Review
Although it's no longer as unique as before, Apple's new iPhone stands out in a crowded market just as well as before. The most talked-about feature is its screen size, which we already knew a lot about thanks to months of leaks. However, there's a lot more to learn about this device. With each successive generation of the iPhone, Apple has managed to pack more power into a sleeker design, better cameras, and more innovative software.
Many similarities can be found between the iPhone 6 and its larger sibling, the iPhone 6 Plus. Apple has made it clear that the two products are not only visually identical, but they are also very comparable to use. The iPhone 6 is not a lower-end version of a new flagship; it is still a premium gadget. Quite a bit of what we wrote in our in-depth look at the iPhone 6 Plus applies to the iPhone 6.
To control and integrate the hardware and software experiences of its products, Apple has a unique position. This year's new iPhones include all of this and more.
Design
Forget about the iPhone 5s's flat edges and sharp angles. The glass face of the iPhone 6 appears like a pool of ink, and it has a silky feel to it. In order to create a smooth transition between the glass and metal, the rim is elevated and the edges curved. If this phone is dropped and lands on a corner, it appears that the glass could break easily, which is one of the many reasons to get a case.
In addition, the design of the iPhone 6's back is one of the most unappealing ever created by Apple. I find the plastic antenna lines that cross the metal body to be overly noticeable. There's a lot of regulatory text and branding that we wish were less obvious, and then there's the camera bulge. When we had the iPhone 6 in our hands, we couldn't help but fiddle with the small nubbin that stands out so prominently.
Because the power button has been relocated to the upper right side, directly above the Nano-SIM card slot, the top of the device is now completely empty. Long-time iPhone users will be alarmed by this. Considering this phone's still-manageable size, the change was probably not essential, but it does keep things consistent with the iPhone 6 Plus's design. If you're used to seeing the mute switch and volume buttons on the left side, you'll be pleased to see them here. Even the charger's Lightning connector fits into its port with a pleasant clunk, which is a testament to Apple's superior production and machining techniques.
It's a pleasure to hold and use this phone. iPhone 6 feels great in the hand, even if we didn't think Apple needed to make it any thinner. So, yes, we're happy that Apple has finally accepted the concept of making a larger phone.
Specifications
It uses Apple's new A8 processor, which was designed in-house, but is based on the ARM architecture, for the iPhone 6. Using the M8 sensor input coprocessor, the A8 can be set to sleep while the A8 monitors and processes physical activity in the background, saving battery life.
There is a noticeable increase in size over previous iPhone 5 models, but this device's display is still quite small compared to that of the iPhone 6 Plus. The pixel density is the same as the iPhone 5s, and the resolution isn't noticeably better. The iPhone 6's display is just as good in terms of quality, but it doesn't excite us as much as the 6 Plus's. Apple's competitors have long outperformed it in terms of resolution, and the gap between some of the latest Android flagships and the iPhone 6 is undoubtedly obvious, albeit ultimately inconsequential.
Even though the iPhone 6 Plus had 1GB of RAM, we didn't find it a big deal when we tested it, compared to Android devices. iPhones are already costly, so having to pay exorbitant amounts over and above the initial purchase price merely to have enough space to utilise these devices to their full extent is a source of ongoing annoyance for us.
Wi-Fi ac and Bluetooth 4.0 are supported, as is the newer high-speed standard. This iPhone generation introduces NFC, which only works with Apple Pay, which isn't available outside the United States yet.
Software
iOS – and more specifically iOS 8 – is a major selling point for the iPhone 6. Because some functions don't operate as well on previous iPhones, upgrading solely for the sake of software isn't a good enough incentive to do so.
There are numerous enhancements in iOS 8, both significant and minor. Even the tiniest features, including enhanced photo editing capabilities, Notification Center widgets, Safari tweaking and voice messaging using IMessage all make the iPhone 6 a joy to use. This new feature is one of the nicest new features about iOS, and developers are sure to take advantage of it in the next months and years. Some genuinely inventive apps have cropped up that allow you to do all kinds of things with texts, and this is a game-changer for Apple. Improvements to e-mail and iTunes content management are also welcome.
The Health app is a prominent new feature in iOS 8. In order to get the most out of the Healthkit app, you'll need to download additional apps that use the Healthkit framework and populate all of the trackable metrics you can see on the activity dashboard. It is possible to collect a great deal of information using Healthkit in conjunction with the M8 coprocessor. There is still much room for improvement. Despite the fact that the average user is unlikely to be aware of Molybdenum, Peripheral Perfusion Index, or Selenium – all of which can be tracked – it seems unnecessary to present them all at the outset.
In order to take full advantage of the Reachability shortcut, which involves double-tapping the Home button to bring the screen's contents closer to your fingers, you must first become familiar with it. Apps that have been optimised for the new screen resolution and scaling factor will take some time to roll out.
Apple's new Continuity features may be appealing to iPhone users who also have Macs or iPads. Unlike the ability to make phone calls from a Mac to an iPhone, which is a niche use case, drafting an email on one device and sending it from anywhere else is a game-changer for the way people operate.
Camera
Improved low-light and colour accuracy have been added to the 8 megapixel rear-facing camera, which is still 8 megapixels. Continuous autofocus and enhanced stabilisation are now available for video capture. A new time-lapse mode in iOS 8 is compatible with both earlier phones and the 120fps slow-motion debuted with the iPhone 5s.
For the most part, Apple's camera app is a stripped-down version of the stock camera software. Even though the additional features of the iPhone 6 and iOS 8 are readily apparent, it's beginning to appear as if Apple is torn between providing a bevvy of customization options and maintaining a clean user interface.
The iPhone 6 lags behind its competitors when it comes to recording 4K video. While it's not necessary to shoot all of your videos at 4K resolution, having the option is a plus. In addition, because of the limit on available storage, storing 4K videos would be impossible.
The camera on the iPhone 6 was excellent. During the day, images were clear and detailed, with true colours. As far as close-ups go, this was one of the best I've seen. Also impressive was the iPhone 6's ability to work well in low light, both indoors and out, even with only a little amount of artificial or ambient lighting. We were astonished at the quality of the images we captured, even when viewed at a reduced resolution on a computer screen. It appeared as though the photos had been taken in a much more favourable light.
Performance
We're reminded yet again that the numbers and acronyms on a product's specifications sheet can't always be utilised to appraise a product. It is safe to say that the dual-core Apple A8 processor and its integrated graphics are more than capable of competing with quad- and octa-core devices from major competitors.
When it came to intense gaming, high-speed video recording, and multitasking, the iPhone 6 performed flawlessly. With unique features like Apple's Touch ID sensor, using an iPhone is like utilising a butter-smooth machine. There are some limitations to iOS, but overall, it's a pleasure to utilise the iOS platform on a mobile device.
The benchmark results were excellent. We were able to achieve excellent results in graphics-intensive benchmarks in large part because the strong A8 CPU does not have to exert itself to drive a very high-res screen. While 3DMark Ice Storm was maxed out in the standard and Extreme levels, it scored 17,302 in the Unlimited mode. GFXBench set a record high of 50.1 fps. High-definition videos also ran without issue.
The AnTuTu for iOS score of 49,319 points is almost exactly the same as the iPhone 6 Plus's score of 49,353 points. A resolution of 640×1136 is detected by the test, thus the scores aren't typical of either device at its original resolution, which is why they're so comparable.
The battery life was adequate, although we had hoped for something more remarkable. It took us 7 hours and 40 minutes to complete our video loop test. This is a major selling feature for the larger iPhone 6 Plus model. The single mono speaker on the bottom of the iPhone isn't very loud or rich, and competitors do far better. We think Apple should concentrate on stronger speakers for its iPhones.
Verdict
As we noted in our assessment of the iPhone 6 Plus, the only real difference between the two new iPhones from Apple is the size of the screen. There's no pressure on users when it comes time to pick a device, so they can go with the screen size (and physical size) that best suits them. The best Android features tend to go to larger phones, therefore "mini" versions are usually trimmed down.
However, due to the iPhone 6's reduced size, the battery is also smaller, and the camera lacks optical image stabilisation. Although each iPhone 6 model costs Rs. 9,000 less than the similar iPhone 6 Plus, it is still more expensive than the iPhone 6 Plus. At the same price, we believe that a 64GB iPhone 6 is a better value than a 16GB iPhone 6 Plus for the majority of customers.
If you assume this phone is less powerful than a flagship Android device because of its specifications, you'd be wrong. The iPhone 6 is one of the best reasons to upgrade from your current phone and join the Apple fan club. If you've been debating between the iPhone 4S and the iPhone 6, the iPhone 6 is a no-brainer. Owners of the iPhone 5 or 5s running iOS 8 won't notice much of a difference, so they can simply continue using their present phones for another year or two unless they feel like upgrading right away.
There are a lot of options to pick from if you aren't sure if you want to go with an Android or an iPhone. The Sony Xperia Z3 (Review | Photos) is one of this generation's flagships. This is a review of the Samsung Galaxy S5. There are a lot of similarities between the HTC One M8 (Review | Photos) and LG G3 (Review | Photos) in terms of size, but they all offer value in the form of features like as expandable storage and 4K video capture.
Another thing to keep in mind is that, given the downward trend in smartphone prices, we often look back to previous models to see if they represent good value.
Read this :
iPhone XS, iPhone XS Max and iPhone XR Launched
iPhone X(10) launched in Nepali market
iPhone 6S and 6S Plus Price in Nepal
iPhone 7 gets a pricecut in Nepal
iPhone 8 and 8Plus launched in Nepal