Rise in travelling numbers prompts airlines to hike airfares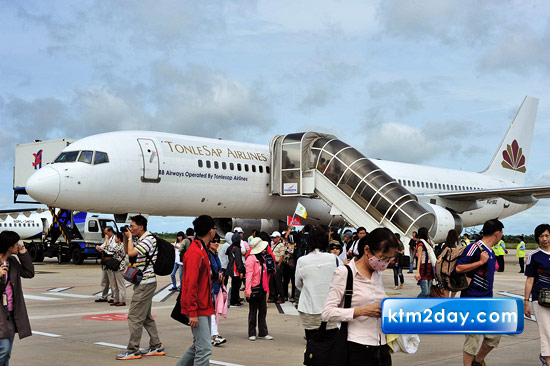 Airfares have gone up as travel demand continues to grow despite the end of the festival season in Nepal. According to travel agencies, the large number of migrant Nepali workers returning to their jobs abroad has encouraged airlines to raise ticket prices.
The hike in airfares has also been attributed to the large number of departures of tourists to celebrate Christmas at home. The country's peak tourism season begins in September and concludes at the end of November.
The tourist high season coincides with the mass return of Nepali migrant workers to celebrate the holidays with their families. More than 40 percent of the annual tourist arrivals in Nepal take place during the September-November period.
"Airlines have stopped introducing promotional fares with the rising demand," said Arjun Prasad Sharma, past president of the Nepal Association of Tour and Travel Agents. "It is difficult to get tickets even if travellers want to pay more."
Travel traders said that two events — departure of tourists and Nepali migrant workers — have taken place at the same time this year, resulting in a surge in air travel demand. "A one-way ticket on the Kathmandu-Delhi sector has increased to Rs 17,000," said Deepak Tandukar of Gandaki Tours and Travels. "During the off season, ticket prices are half of present levels," Tandukar added. A number of travel agencies said that airlines did not increase their flight frequency as they did last year. As a result, demand has outstripped supply. Megh KC of Sumegh Tours and Travels said that due to the Nepal Tourism Year campaign last year, almost all the airlines had added flights so there was no shortage of air seats. "However, this year only a few companies have increased their frequency."
According to an official at the Civil Aviation Authority of Nepal, airlines produced fewer seats compared to last year. "As only a few airlines have raised their frequency, travellers have not benefited from competitive fares and greater supply of seats," the official said.
Travel agents said that airfares to the Middle East had increased almost 40-50 percent. According to them, the normal airfare for the Kathmandu-Doha flight has jumped to Rs 26,000 from Rs 17,000. Tickets for the Dubai and Qatar sectors are also in the same range.
However, the presence of Nepal Airlines on the Kathmandu-Bangkok sector has kept airfares in check. The national flag carrier's fare on the Kathmandu-Bangkok sector is Rs 15,500 while other international airlines have been charging Rs 25,000 to Rs 26,000, according to agencies. During the off season, airfares drop to Rs 16,000 to Rs 18,000.
Despite fierce competition on the Kathmandu-Kuala Lumpur sector, airfares have increased to Rs 25,000. Even budget carriers have jacked up prices to Rs 13,000. Airfares to New York and Paris have also increased to Rs 80,000 and Rs 65,000 respectively. During normal times, tickets cost Rs 65,000 and Rs 50,000 respectively.