Teledensity rises 14 percent in a year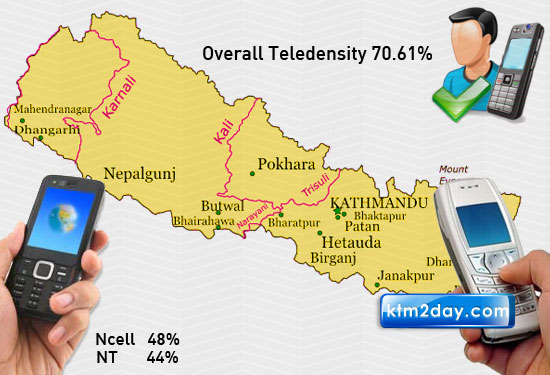 Nepal witnessed an encouraging 14 percent increment in overall teledensity in a year (from mid-December 2011 to mid-December 2012).
Overall telephone penetration rate in mid-December 2011 was 56.46 per cent, which rose to 70.61 per cent in mid-December 2012, according to the Management Information System (MIS) report released by Nepal Telecommunications Authority.
Data shows that consumer base of GSM mobile has significantly climbed up in a year. Penetration rate in mobile services grew 62.68 per cent in mid-December 2012 from 50.16 per cent a year ago.
However, consumers of fixed line, popularly known as landline, have dropped in that period. The teledensity of fixed line dropped to 3.13 per cent in mid-December 2012 from 3.17 per cent in the corresponding period of the previous year.
The MIS report shows that Ncell surpassed state-owned telecom giant Nepal Telecom by four per cent in terms of market share of telecom subscribers. In mid-December 2011, market share of telecom subscribers of Nepal Telecom was 48 per cent, whereas Ncell held 46 per cent market share.
But, the scenario took a twist a year later. The market share of Ncell stood at 48 per cent against 44 per cent of Nepal Telecom.