Samsung's Galaxy Grand hits Nepali market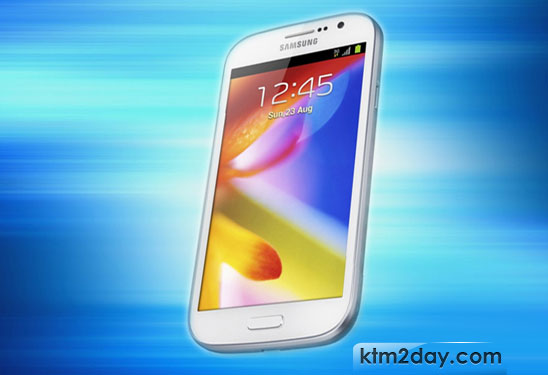 Samsung on Saturday launched Galaxy Grand in the Nepali market with an aim to further consolidate its position in the domestic smartphone market.
International Marketing Services (IMS), the sole authorised distributor of Samsung mobiles, has priced the phone at Rs 37,500. The handset has been a big hit in the Asian market where demand for dual SIM phones is high.
Addressing the launching ceremony, IMS Chairman Deepak Malhotra said that the device will help Samsung measure greater heights in the domestic mobile phone market. "The demand for smartphones is booming continuously in the Nepali market. This handset will help us increase people's access to smartphones."
Samsung's latest offering, according to IMS, combines features of the Samsung Galaxy S3 and the Galaxy Note II. While the device's exterior is quite identical to Galaxy S3, there are various software components featured by the Galaxy S3 and the Galaxy Note. As well as Samsung's innovative features like Smart Stay, Direct Call and Smart Alert, Grand is equipped with Androids v4.1.2 Jelly Bean Operating System (OS) which has been mated with a dual core 1.2 GHz processor and 1 GB RAM.
As for the display, the device boasts a five-inch WVGA, TFT LDC screen, with a multi-window function that allows user to run two different applications simultaneously. It comes with an inbuilt memory of 8GB which can be expanded upto 64 GB through a SD card.
The phone's eight-mega pixel camera can capture perfect shots even during nights using its inbuilt LED flash, according to the company. There is a two-mega pixel front facing camera for making video calls. Fitted with a sensor similar to that of the Galaxy S II, the phone's camera lets users to choose settings such as panorama, face detection, flash, exposure value, scene mode, ISO and white balance, among others.
In addition, the Galaxy Grand comes with connectivity features like 3G, 2G, Wi-Fi, Bluetooth 4.0, S Voice and micro USB. The added features in the mobile set include direct call, smart alter, popup video and all here play.
IMS has stated that the handset will cater to the demand of the domestic tech enthusiasts, multimedia users, those who need to stay connected, business professionals and those who need to carry two different mobile handsets. The company further added that this device will enable mid segment users to enjoy unmatched facilities on its five inch screen.
Likewise, several lucrative schemes for the buyers of the latest Samsung device, IMS has announced. The company is offering a 12-month easy instalment package at zero percent interest to customers holding credit card of Nabil bank. Grand comes with a one-year free insurance offer, similar to the ones extended to Galaxy S3 and the Note II. The insurance covers water damage, cracked screens and other unfortunate incidents, the company said. Moreover, those customers who wish to use Grand through Ncell SIM will get 500MB free data per month, for the period of three months.
"With Samsung Grand, we aim to capture a market share of 75 percent in the smartphone segment," said IMS CEO Bikash Acharya, adding that the company is looking forward to selling around 5,000 units of Grand a month. The company at present sells around 30,000 units of Samsung mobile phones each month, with smartphones accounting for more than 60-70 percent.
Samsung's Galaxy Grand Price in Nepal –  Rs 37,500