Telecom subscriber growth rate down by over 11pc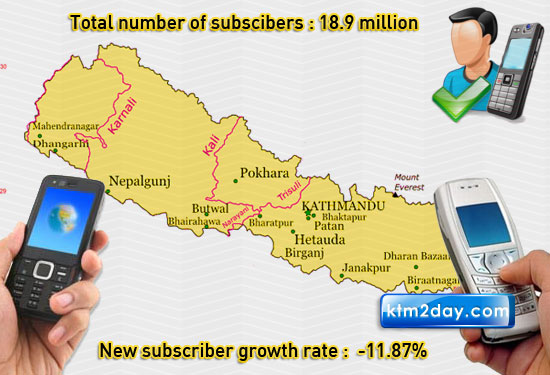 Telecom service subscriber growth rate has declined at a time when the government is working out to bring new mobile service providers. New subscriber growth rate has declined by 11.87 percent during one year period (Jan 2012 to Mid-Jan 2013), indicating that the market is heading towards a saturation point.
Six telecom companies of the country roped in 3.6 million customers over the period compared to 4 million subscribers a year ago. The Nepal Telecommunications Authority (NTA) figure shows that 18.9 million out of total the country's 26.64 million population have access to telecom service.
In the total subscriber base, GSM mobile, the major segment in telecom service, accounts for 15.9 million customers based on sales of SIM cards. Despite the increase in number of mobile users, telecom companies lamented that there was no demand for new lines as it used to be till two years ago.
"There used to be long queues for SIM cards whenever we introduce a new scheme," said Guna Kesari Pradhan, spokesperson of the Nepal Telecom (NT).
"They no longer need to put such effort to get a SIM card." The NT has conceded that the decline was its inabilty to distribute new lines due to delay in big projects like 10 million GSM lines and 2 million IP-CDMA lines.
Nepal Telecom attracted 1.1 million news customers to its service network last year, while 2.1 million subscribed to Ncell service.
Milan Sharma, corporate communication expert of Ncell, said that it was too early to say that the market reached a saturation point. "We have yet to reach out to the customers who do not have telecom services," he added.
The NT is planning to distribute new SIM cards under the 10-million line project from May. And the government is also preparing to issue unified licence to small telecom companies that have trained their sights on GSM mobile service.
Having persuaded small telecom companies for long, the NTA endorsed the unified licence regime about 10 months ago to give a level playing field to such companies. Kailash Prasad Neupane, NTA spokesperson, said that the unified licence is focused on creating competition in the local market. "There will be competition for quality service in the coming days," he added.
Three small companies—United Telecom Limited, Smart Telecom and STM Telecom Sanchar—have applied for the unified licence, showing interest to invest over Rs 16 billion in the telecom industry. Telecom companies applying for the unified licence claimed that the actual penetration rate of telecom service was below 40 percent.
"We are confident that we can attract more customers on the back of our 'quality service and honest pricing,'" said Ashish Sharma, general manager of the Chaudhary Group which owns 80 percent stake in STM Telecom Sanchar.