Samsung Galaxy Tab 3 launched in Nepal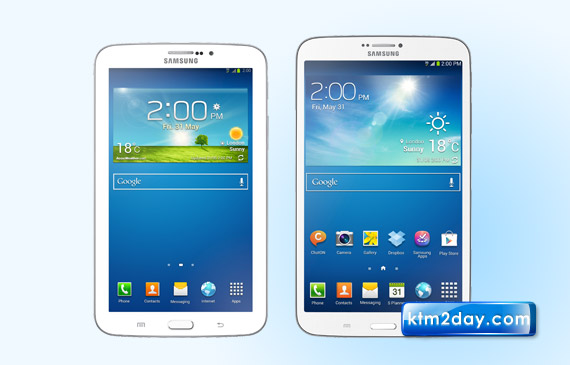 International Marketing Services, the authorised distributor for Samsung mobile in Nepal, has launched three new tablets from Samsung. The three latest tablets offered are the SM-T210, SM- T211 and SM-T311, which are powered by latest Jelly Bean Android, a powerful processor with integrated beautiful design for easy handling.
The SM-T210 is equipped with the latest Android OS 4.1.2 Jelly Bean and has a 7-inch TFT display. It has crystal clear picture quality with 3MP rear and 1.3MP front cameras. With a 1.2GHz dual core processor, 1GB RAM and 8GB internal memory that can be extended up to 64GB with a micro SD card, it can store all the information you need. It has the support of A-GPS and Glonass, and features Wi-Fi Direct. Targeted to families and youth for gaming and socialising, its price is Rs 26,900.
The 7-inch SM-T211 is powered by Android 4.1 (Jelly Bean), and it possesses a 3MP rear and 1.3MP front cameras. Equipped with dual core 1.2GHz processor and 1GB RAM, this device has 8GB of built-in storage which can be expanded up to 64GB through a micro SD card. It has full call functionality with 2G and 3G networks. Additional features like: USB 2.0, A-GPS, Glonass, WiFi Direct and 3.5mm stereo ear jack makes it the best choice for youth to engage with this device for all personal and professional needs. The SM-T211 is priced at Rs 37,500.
The SM-T311 is an 8-inch tablet equipped with Android 4.2.2 (Jelly Bean), offering an 8-inch TFT Display with a WXGA (1280 x 800) screen resolution and 16 million colors. It has sharp picture quality with the 5.0MP rear and 1.3MP front cameras. 1.5GHz dual core processor with 1.5GB RAM and 16GB internal memory and can be extended up to 64GB.
Targeted at management level executives, this tablet works as a substitute for contemporary office computing devices. It is available on the market for Rs 50,800.