Samsung launches UHD TV and new refrigerators in Nepal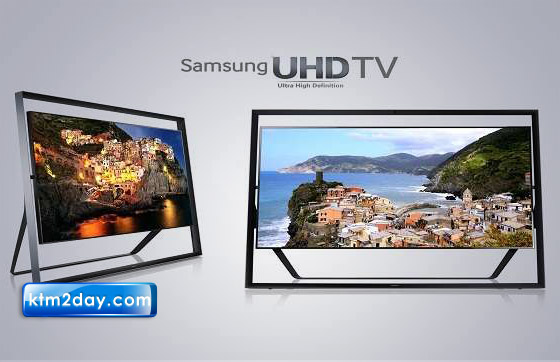 Him Electronics, the sole authorized distributor of Samsung in Nepal, has introduced the Samsung UHD TV and a new refrigerator model the Samsung 3050. The products were jointly unveiled by Shekhar Golchha, managing director of Him Electronics, and SK Kim, senior vice president of Samsung, amid a programme in Kathmandu on Wednesday.
Speaking at the launching ceremony, Golchha said that Samsung had gone ahead of time to introduce these revolutionary products, and that the new offerings would excite customers. "Samsung has been leading the country's electronics market for the past one decade. The new products will strengthen Samsung's presence in Nepal," added Golchha. Likewise, Kim said that Samsung held more than 30 percent of the global market for flat TVs, and that the latest devices would cater to the demand of people looking for innovative products. The latest technology embedded in a sleek, modern and slim metal design, Samsung has perfected its new UHD TV with more than 8 million pixels, four times more than current full-HD TVs, to bring out the most incredibly intricate and clearly detailed picture quality for an experience like never before, said the company.
The UHD TV S9 has been recognized for its stunning picture quality, 3D performance and sound quality by prestigious global certificate authorities UL, TUV Rheinland and Intertek, it added. The Samsung UHD TV features voice command recognition system and intuitive motion sensing. One has to say "Hi TV" or wave a hand to carry out basic functions like changing the channel or adjusting the volume. Users can run videos, photos and other available apps with the TV to share the contents through social media sites. The TVs are available in 65-in and 55-in sizes, and cost Rs 800,000 and Rs 750,000 respectively.
Likewise, the BEE five-star rating Samsung 3050 refrigerator can keep food fresh with a minimum consumption of electricity as it uses LED lights instead of the usual power-consuming bulbs and a digital inverter compressor. It is sold with a 10-year warranty.
Providing relief from anxiety to customers during long power cuts, the new refrigerator series features cool packs on both sides, along with the Moist Fresh zone, to keep food frozen and fresh for 8 hours.
The refrigerator is available in 260-l and 360-l sizes which have price tags of Rs 33,000 and Rs 45,000 respectively.