Brother launches new laser printers in Nepali market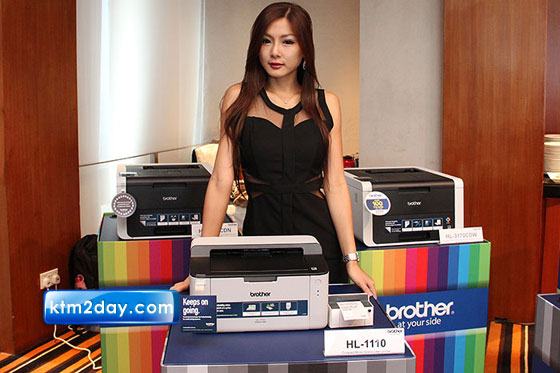 Brother Printing & Solutions has introduced the latest printer, the New Laser Series, in Nepal through the authorised distributor, Sagar Printing Solutions.
The company claims that the laser printer features a smooth print quality, higher toner capacity, reduced power consumption and a faster print speed.
According to the company, the New Laser series from Brother introduces four new models: the HL-1110 Mono Laser Printer, the DCP-1510 and two variants of the MFC-1810. The DCP-1510, with the capacity to print, copy and scan is a multifunctioning solution. Similarly, the MCF-1810 5-in-1 comes with added Fax and ADF services.
"Besides being affordable, the laser machines ensure hassle free performance," said Amit Ali, deputy general manager of the Brother International FZE. According to him, the dual roller system and shorter paper path in the laser machines avoids the frustrating problem of paper jamming inside the machine.
Sagar claims that the laser machine is cheaper to operate as its toner can be found at a reasonable rate in the market, making the cost per page printing less compared to similar other machines. Ali said the printer uses 1,000 paper toners, ensuring its operating cost remains low.
Sagar has fixed the MRP of the printers between Rs 11,500 and Rs 36,000.
The Japanese brand will also be launching a new model of home sewing machines in the country, providing a complete tailoring solution.
In the sewing machines, the company has introduced four variants: the AS-1430S, the JS-1410, the XT-27 and the XT-37. The first two models are standard issue, while the latter two are top-of-the-line products, according to Ali. "Built-in-stitches, LED lighting, top load bobbin and auto needle threading functions make the machines operate easily compared to traditional manual machines."
Ali claims that compact sewing machines create easy use and repairing. "The automatic electric machines feature a wide range of stitches, which can even facilitate in making various crafts," he said. "Based on the success of the products, we plan to introduce embroidery machines in the future."
Sagar has fixed the MRP of the sewing machines between Rs 14,500 and Rs 29,000. The company said it has been offering attractive discounts on the introductory price of the new products.