Real estate sector moves to firmer ground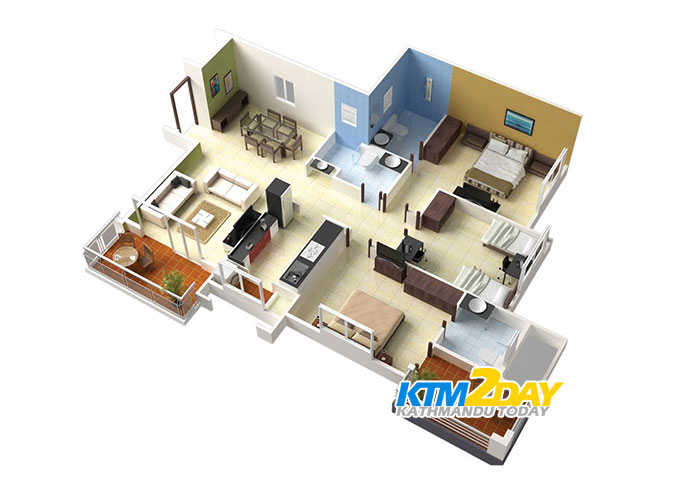 Slowly and steadily, the real estate sector has been moving towards stability. After sinking into a five-year recession, the industry is now gradually moving towards a growth path with housing developers experiencing a surge in their business.
Leading housing developers said that the housing sector had completed a full cycle, witnessing a boom and a slowdown in the course of a decade. And now, the outlook looks brighter.
An indication of this turnaround is shown by two factors. First, revenue collection at the Department of Land Reform and Management (DoLRM) has started picking up significantly with all the Land Revenue Offices (LROs) posting high growths. Second, housing projects are seeing more buyers.
As per the DoLRM, transactions at all the five LROs in the Kathmandu valley and across the country have increased this fiscal year.
Such is the upward trend that within the first nine months of the current fiscal year, LROs across the country have already exceeded the government's revenue target for the current fiscal year. The government has set a target of Rs 4.5 billion for the current fiscal year.
"Collections have already exceeded the Rs 4.5 billion mark," said Raju Bashnet, section officer at the planning department of the DoLRM. "The way collections have been increasing, we are hopeful of touching the Rs 6 billion mark this fiscal."
Similarly, Min Man Shrestha, general secretary of the Nepal Land and Housing Developers' Association (NLHDA), said that the main reason behind business becoming stable is a rise in buyer confidence, relatively stable prices and easy availability of home loans from banks and financial institutions (BFIs).
Also, people who had put on hold their plans to buy homes are finally making their final decisions. According to Shrestha, 35 out of the 39 apartments at his City View Apartment, Sanepa, which will be completed next month, have already been booked. Likewise, around 70 percent of the apartments at Grande Towers, Dhapasi have been booked, said Bijay Rajbhandari, chairman and managing director of CE Construction.
As of now, the country is estimated to have around 150 big and small real estate property developers. They are estimated to have invested around Rs 250 billion collectively. Private sector companies have developed around 15,000 houses and apartments so far, said the NLHDA.
Nepal's real estate industry, which came into formal shape around 12 years ago, has come a long way since then. As of May 2013, a total of 67 apartment projects have received construction licences to build 6,474 units of apartments over the past one decade from the Department of Urban Development and Building Construction (DUDBC). Post May 2013, no new apartment project, except the recently announced Civil Luxury Residence, has entered the scene.
According to the NLHDA, there are around 3,500 housing units presently available on the market. Of the total, 500 are standalone houses while the rest are flats. Housing developers said that since Nepali buyers are more willing to purchase individual homes rather than live in apartments and they see standalone house as a safer investment, it has left apartment developers struggling a bit. While young nuclear families seem to be mostly interested in apartment projects, others seem to prefer standalone houses.
According to Shrestha, no new apartment projects have come following slow demand. Despite this, developers said that there were many takers for projects that have been completed and are ready for handover.
"There isn't a problem with projects that have completed," said Rajbhandari of CE Construction. "People are reluctant to invest in projects which are yet to be built or are in the construction phase."
Though sales of apartments have remained a bit slow currently, developers said that sales would increase in the long run. According to Shrestha, there is no alternative to apartments in the long term for those wanting to reside in the city core.
Buying houses looks like a better bet currently as prices of land and construction materials have increased massively in the recent past. While a housing plot alone costs around Rs 5 million in prime areas of Kathmandu, developers are offering fully furnished homes and apartments at prices ranging from Rs 5 million to Rs 10 million, depending on the facilities offered.
"It is difficult for most Nepalis to buy a plot of land inside the Ring Road and construct a home. Apart from land prices, the cost of construction materials has increased significantly," he said.
Property developers said that apartments priced in the range of Rs 5,000 to Rs 7,000 per square foot and standalone houses costing up to Rs 10 million were selling well in the market.
Moreover, lower bank interest rates have been another reason making it a good bet to buy homes currently. BFIs are offering home loans at around 8 percent interest, which is similar to the rates prevalent around five years ago.
Another point that makes residences developed by private developers a good bet is the fact that prices have remained stable in the past five years. Around five years ago, land prices had witnessed a significant growth due to speculative investments. As a result, home prices too had climbed beyond the capacity of most buyers. "Realizing that prices have normalized and speculative investments have lessened, we are getting real and serious buyers now," said Shrestha.
Developers said that organised living is the need of tomorrow, and it will expand the housing industry in the future. "Land, especially in Kathmandu, is being used only for constructing homes which is not good," said Shrestha, adding that the government needed to come up with the concept of organised living.
A rough calculation indicates that around 1.5 hectares of land is required to construct 100 standalone houses. Apartment buildings, however, can accommodate 21 families in an area of just 0.6 hectares.
Rajbhandari said that the tendency of living in organised homes will evolve with time, and that the government also needed to come up with projects targeting government officials for making the concept of mass living popular in Nepal.
"Many countries are selling apartments to government officials at subsidized rates. Our government too should implement such a policy," he added.
Bhesh Raj Lohani, director of Green Hill City, said that the problems seen in the housing sector in the last five years had made buyers apprehensive. There were a few housing projects that failed to deliver apartments on time while some developers ran into financial trouble creating problems for buyers who had put their savings into their projects. "People are still sceptical. Once buyer confidence fully returns, the sector will roll on swiftly," said Shrestha.
Developers said that there was a need to amend several policies and bring a proper regulatory framework if the government wanted to promote the organised living concept. They said that there was an urgent need to implement a one-door policy for the sector that includes land acquisition.
"New apartment projects are not coming due to the fact that developers need to obtain permission from several government agencies which consumes almost two years," said Shrestha.