Smartphones with large screen in high demand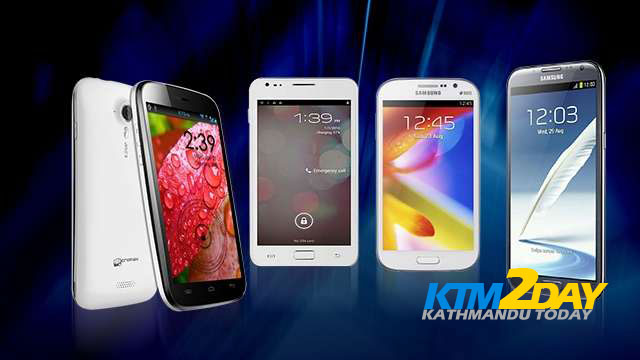 It was once fashionable to carry the smallest and thinnest mobile set, but the trend has been reversed with smartphone makers coming up with devices featuring multitudes of applications and a larger screen.
Handset screen sizes have now expanded to 6 inches from 3.5 inches to 4.5 inches in the past. Traders said that customers were increasingly buying mobiles with larger screens as they are more convenient for internet browsing and reading.
Puskal Khatiwada, marketing manager at International Marketing Services, the authorised distributor of Samsung mobiles in Nepal, said people were going for larger screens as they feel more comfortable browsing the internet, watching videos on YouTube and video calling through Skype.
He added that most smartphone companies were selling models with 5-inch or larger screens. Samsung's recent launches the Galaxy Grand 2 and Galaxy S 5 come with screens that are larger than 5 inches. The Grand 2 has a 5.25-inch screen while the Galaxy S 5 has a 5.1-inch screen.
"Basically, customers look for three things while buying a smartphone. They are operating system, processor and screen size, so manufacturers also focus on upgrading these things in their latest launches," he said. "The Samsung Galaxy Note set the trend for bigger screens and then many mobile companies started doing the same thing."
"In the past, even 4.5-inch mobiles were called large, but with the changing trend, customers are searching for even larger mobiles," said Shrutika Manandhar, brand manager at Pashupati Trade Link, authorised distributor of Micromax mobiles.
"The concept that smaller is better is gone now, and these days people are using smartphones like they use computers. So they want a large screen as it makes things easier for their office work, checking mail and reading Word and Excel files."
Most of the launches from Micromax like the Canvas Magnus, Canvas 4, Canvas Turbo and Canvas Knight have a 5-inch screen. They are priced between Rs 24,000 to Rs 36,000 in the domestic market.
The Canvas Doodle 2 is the biggest smartphone from Micromax which has a 5.7-inch screen. The company is planning to launch the Doodle 3 by the end of May. It has a screen size of 6 inches. Roshan Neupane, marketing manager at Call Mobility, the authorised distributor of Huawei smartphones in Nepal, said that the large screen trend was more popular among the youth.
"Youths are choosing bigger handsets for mainly gaming," he added. "But handsets should be pocket friendly, and generally mobiles having screen sizes of 4.5 inches to 5 inches fit in the pocket, and they are becoming increasingly popular these days."
The Huawei Ascend P6 comes with a 4.7-inch screen while the G 700 and G 610 have a 5-inch screen. Their prices range from Rs 21,000 to Rs 40,000 in the domestic market. Nepa Hima Trade Link, the authorised distributor of Sony handsets in Nepal, will be launching the Sony Xperia Z 2 with a 5.2-inch screen, which is larger than its predecessor Xperia Z 1 with a 5-inch screen. Binil Bajracharya, chief executive officer of Nepa Hima, said people were buying phones with a larger screen as it is easier to read and browse the internet.