Buddha Air's new aircraft takes flight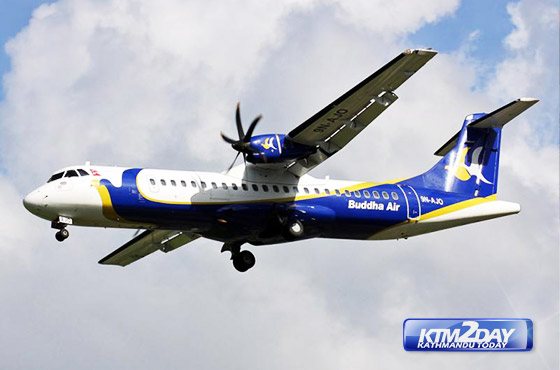 Buddha Air has pressed its new ATR 72-500 aircraft into commercial service.
The domestic carrier had acquired the aircraft on February 7. It is configured to carry 72 passengers.
"The aircraft is environmentally friendly and consumes less fuel compared to other aircraft. Spacious cabin and ergonomic seats with enough legroom ensures a comfortable flight for passengers," Buddha Air said in a statement.
The carrier said the new aircraft has been added to handle the rising air traffic movement.
Buddha Air has nine aircraft — two Beechcraft 1900Ds, three ATR 42-320s and four ATR 72-500s – in its fleet.
The airline plans to increase flight frequency to Bhadrapur, Biratnagar, Nepalgunj and Dhangadhi from March 14 onwards.
Buddha currently occupies 61 percent of the air passenger market share in the domestic sector.
Despite weakening of Nepali rupee vis-a-vis US dollar and high operating costs, Buddha Air has been offering affordable fares to its passengers, it said.
After the expansion of Janakpur Airport is complete, Buddha Air plans to operate its ATR 72 aircraft on that route. The one-way fare to Janakpur will be Rs2,000.
The carrier has also said that the number of lower-fare tickets would be increased in the near future.