NADA Auto Show to commence from Sept 11-16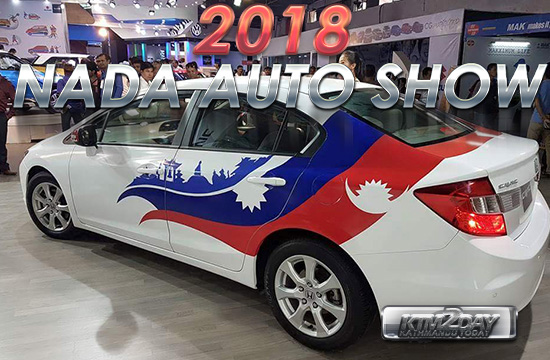 The 13th edition of the largest automobile exhibition, NADA Auto Show is going to be help from Spetember 11-16 at Bhrikuti Mandap Exhibition Hall, Kathmandu.
The six-day event is being organised jointly by Nepal Automobile Dealers Association (NADA) and Global Exposition Management Service.The title sponsor of the event is SERVO World Class Lubricants.
NADA Auto show 2018 is the flagship event for the organiser and will chock-full of renowned auto brands and companies dealing in finance, lubricants, spare-parts, batteries, tyres, vehicle security technology, garage equipment and other auto components.
The show is looking to attract auto enthusiasts from all walks of life. The exhibition will provide a platform for the automobile business sector to showcase their vehicles, accessories and other services to possible customers.
It is an equally ideal and trustworthy platform for the buyers, enthusiasts to know, observe and investigate about different choices and make a welcome decision.
The exhibition will highlight the growing demands of the automobile sector. It will be the perfect place for the exchange of information, analysis of automobile sector for the Nepali people as importers, dealers, distributors, manufacturers and buyers will be gathered at the same place.
This year's show will house around 134 small and big stalls and will be occupied by 71 exhibiting companies. 19 brands of 4-wheelers, 20 brands of 2-wheelers and 6 brands of heavy commercials will be on display in the NADA Auto Show, reads the press release. Other companies dealing in tyres, batteries, lubricants and other automobile equipments will also be present at the show. Major Banks and insurance companies are also participating in the expo to provide financial and insurance services to customers.
The entry fee is priced at Rs.150 for students and Rs.200 for normal visitors.
NADA Automobiles Association of Nepal is expecting around 60,000 visitors to the 13th NADA Auto Show.