Commerical Banks offer easy home loan scheme this festive season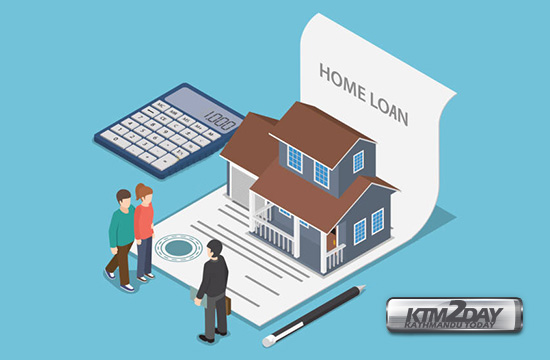 Commercial banks in the country are offering easy home loan schemes for people who plan to buy a dream house this festive season. They have come up with attractive loan schemes for those desiring to have their own home.
NIC Asia Bank, NMB Bank and Rastriya Banijya Bank, among others in the country, have unveiled an array of home loan services for the festival season.
Also read — Commercial banks compete in interest rate to attract fixed deposits
NIC Asia Bank introduced its Chamatkari Ghar Jagga Karja loan scheme recently. Under this loan scheme, customers can select the installment amount according to their income with a payback period of up to 50 years, said Chiranjivi Acharya, relationship manager at NIC Asia Bank. The long maturity period under home loan service is designed to help fulfil the dream of customers to own a house, he said.
The bank provides home loans at 11.8 percent interest per annum under the recently launched home loan scheme, he said, adding that the bank had different interest rated according to the maturity period of the loan. The scheme also offers a minimum monthly interest rate and discount on service charge.
NMB Bank, which is the only bank from Nepal in the Global Alliance for Banking on Values, is planning to launch an attractive home loan scheme after Dashain. According to Sushan Lal Shrestha, retail head at NMB Bank, the bank had planned to introduce the offer before Dashain, but it had to be postponed due to a minor problem. "We will be launching the home loan scheme very soon."
Currently, NMB Bank under its home loan service provides loans of up to Rs50 million for constructing or purchasing a home at 11.5 percent interest per annum. The bank provides a quick loan decision after prospective borrowers submit all the paperwork.
The bank gives a loan decision within four days after receiving all the documents for the home loan, he said Rastriya Banijya Bank recently introduced a loan scheme at 10.20 percent interest per annum which the bank claims is the most competitive home loan offer in the market. The bank offers home loans with a maturity period of 10 and 15 years. "Our home loan scheme is competitive in the financial market," said Kiran Kumar Shrestha, CEO of Rastriya Banijya Bank.
The bank provides housing loan service for the construction of houses for both residential and commercial purposes, and also for repair, extension and renovation of existing buildings.