DJI's new FPV system promises to change high-speed drone segment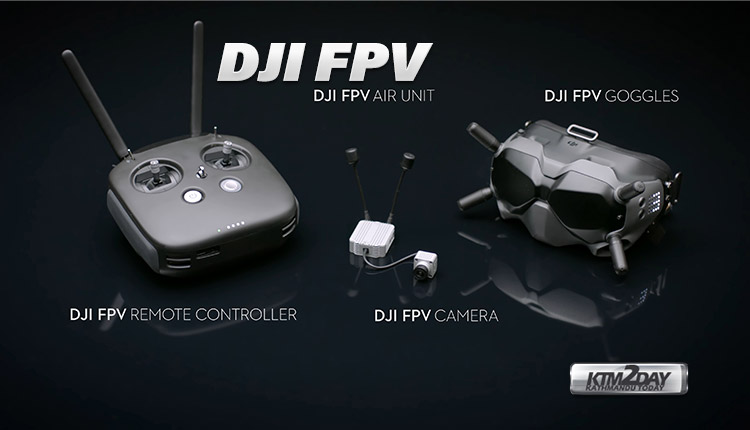 The DJI company just flew into another market segment – FPV. A niche segment, but extremely exciting.
FPV (first-person view) drones are equipment that allows piloting from the first person's point of view. Wearing special goggles, the person in control has the immersive experience of flying a drone. It has a view from its position, which allows more dynamic and fast flying. Very few people know, but there are also special drone races . There are a lot of videos recorded on YouTube from drone controlled in this way. Usually, these are amazing performances of flying, which sometimes even contradict common sense.
DJI officially announced the DJI Digital First Person Viewing Transmission System , its new FPV ecosystem . The company obtained certifications that appeared at the FCC last week and introduced the new DJI FPV Goggles , the DJI FPV Remote Controller , the DJI FPV Air Unit transmission module and a DJI FPV Camera .
The new ecosystem offers low latency of 28 milliseconds and HD video for the user to experience  in much more detail, resolution and sharpness of your surroundings, it also allows to easily see where your FPV drone is going and whether its up against any obstacles.It is available as of today in two packages, which are:
FPV Experience Combo: FPV Goggles + 2 Air Units + 2 FPV Cameras + all necessary wires and antennas for $819.
FPV Fly More Combo: FPV Goggles + Air Unit + FPV Camera + FPV Remote Controller + all necessary wires and antennas for $929.
According to Johnny FPV, one of the most famous high-speed drone riders in the world, this new DJI system is a set that will change the segment by bringing quality not previously found in other models.
The set just announced consists mainly of new FPV goggles, control apparatus and Air Unit module with a small high resolution camera. The new DJI set is so interesting that it can be used in many different devices – from racing drones to remotely controlled cars or boats. Each component has been programmed to memorize the initial connection with other components, eliminating the need for multiple pairing of modules or customizing parameters.
In its new set DJI uses DJI HDL FPV digital video transmission technology, not the analog technique on which many other FPV cameras and goggles are based. This means that pilots can transmit HD 720p material (at 120fps or 60 kl.s) from a drone to a goggle with a delay of 28 ms with a maximum transmission range of 700 m. The air unit can simultaneously record live transmission at 1080p or 720p – 120 fps per microSD card. Goggles can also record live streaming to a microSD card (although only at 720p / 60 fps). The camera has an ultra-wide 150 ° lens. The module is equipped with four frequency channels, which allows simultaneous flying up to four drones.
What's more, drone pilots can share the video with other DJI FPV goggles working in the audience mode, thus allowing spectators to share the same view .
DJI is the biggest drone company at the moment. The Chinese company was able to gain reputation and simply defeat brands like GoPro and Parrot.