Moto 360 Smartwatch Is Back, But Comes At A Premium Price Tag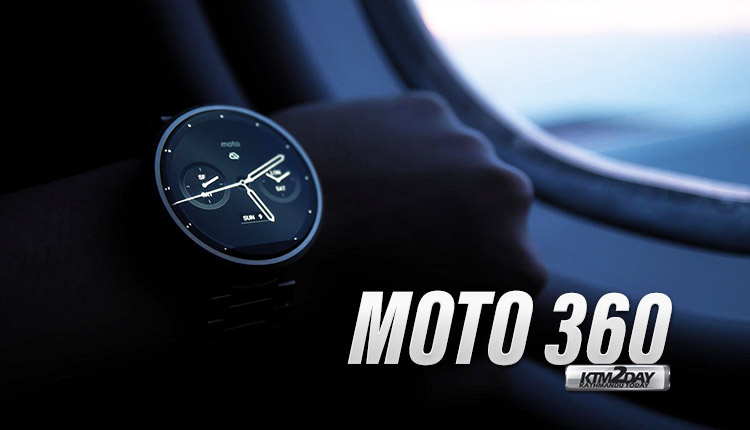 When it emerged in 2014, the Moto 360 marked a turning point in the smartwatch market. It was equipped with one of the first versions of Google's Android Wear .
The Moto 360 was one of the first smartwatches. It was released in 2014 with a circular dial and was praised for its design, although it did not meet the preferences of all users. The following year, Motorola followed with a second generation model and a sports model. Four years later, the company is again bringing out the Moto 360 in fresh new looks and designed, but it will not be manufactured by Motorola but some unknown third party by the name eBuyNow.
The new Moto 360 is manufactured by a relatively unknown company called eBuyNow eCommerce Ltd that now have the rights to the Moto 360. Although they focused virtually on the same design, with a circular dial and a stainless steel structure, there have also been some major changes.
Talking about the design, the Moto 360 features a black frame around the dial. The smartphone comes with  two button — the first one at 2 o' clock position with Motorola logo engraved and the second one at 4 o' clock position.
The Moto 360 features a fully circular 1.2-inch AMOLED display with a resolution of 390 x 390 pixels. It is covered with Corning Gorilla Glass 3 surrounded by brushed stainless steel with PVD/DLC coating. Thanks to ambient mode, you don't need to tilt or press a button to check the time.
It runs Wear OS by Google, and like Fossil's fifth-generation Wear OS watches, the new Moto 360 is equipped with Qualcomm's Snapdragon 3100 processor, 1GB of RAM, and 8GB of storage.
Among other features, it has a Bluetooth 4.2, WiFi, NFC, GPS, an accelerometer, a gyroscope and a barometer. The product page also mentions that it is water resistant.
The device would also feature a heart rate monitor, GPS, and NFC for mobile payments, with Google Pay support being touted.
The new Moto 360 features a 335mAh battery with Quick Charge support, which allows you to charge the clock from scratch to 60 minutes.
It has a battery-saving mode that is automatically activated when the battery level is critical. In this mode, the watch continues to show time up to 3 days.
Meanwhile the watch bets on a 20 mm bracelet and is supplied with a leather and silicone straps. The watch is available in three colours – Steel Grey (Silver), Rose Gold and Phantom Black (Black). The price is around $349.