AMD Announces Radeon RX 5000-Series Navi Graphics Cards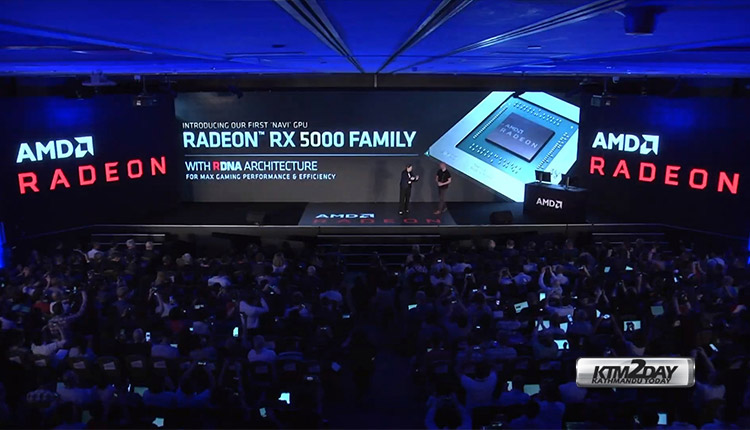 Today at a special event, anticipating the opening of the exhibition Computex 2017, AMD officially announced the long-awaited video card Navi. In honor of the 50th anniversary, which the company celebrates this year, the line has received the designation Radeon RX 5000.
And the most important thing is, finally, the new RDNA (Radeon DNA) architecture, which replaced the seven-year GCN. However, AMD is not saying goodbye to GCN yet – it will produce entry-level 3D cards.
The RDNA architecture assumes a new execution of computing units, with greater efficiency and an increased number of instructions per cycle (IPC), a new multi-level cache memory, an optimized graphics pipeline. In general, all the improvements have allowed to reduce latency, increase throughput and at the same time reduce energy consumption. RDNA also implies a more dense layout of various components of the GPU, which, coupled with the 7-nanometer process technology, reduces the size of the graphics processor. According to AMD, the increase in GPU performance per clock was 25%, per watt – 50%.
Radeon RX 5000 video cards are the firstborn based on RDNA and with native support for the PCIe 4.0 interface. It looks quite logical in the light of support for this interface with both Ryzen 3000 processors and motherboards based on the AMD X570 chipset.
During the announcement, Scott Herkelman, vice president and general manager of Radeon Gaming, demonstrated the performance of the Radeon RX 5700 video card in comparison with the GeForce RTX 2070. In the Strange Brigade benchmark, the AMD video card showed 10% more performance than its competitor. Given that the Radeon RX 5700 is clearly cheaper, this is good news.
More details about specific models of the series (specifications, cost, performance) will appear in two weeks time at the E3 game exhibition. Well, sales of new products will start in July, which has already been confirmed by the company.