DJI launches new Mavic Air 2 with upgraded camera and 34 minutes flight time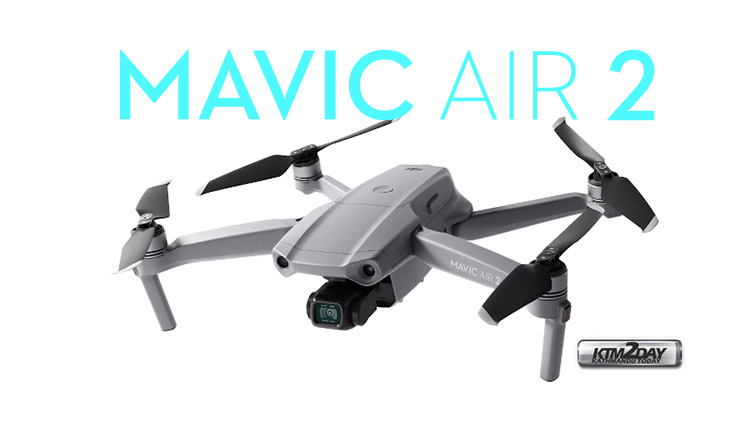 DJI, the global leader in civilian drones and aerial imaging technology, today ushers in a new era of aerial creativity with the Mavic Air 2 drone, combining high-grade imaging, intuitive yet advanced flight performance and revolutionary smart and safe technology in the best all-around drone we've ever made.
Created to make capturing unique, high-quality content from the air simple, fun, and safe, Mavic Air 2 offers flagship capabilities in a compact and easy to use folding drone that features 8K functionality. A larger 1/2" camera sensor offers high-resolution photos and videos to make content stand out, while advanced programmed flight modes, intelligent features and imaging technology make capturing professional-looking content effortless.
Pilots can now stay in the sky longer with an enhanced maximum flight time, capture vivid imagery with completely revamped autonomous capabilities, and wholly transform their content with in-app editing features.
The new Mavic Air 2 reimagines how quality content can be captured in a portable, folding drone. No matter the skill level of the pilot, Mavic Air 2's features and technology are sure to appeal to every creative visionary. Mavic Air 2 is the first drone in the Mavic series to offer 4K video at 60 fps and 120 Mbps. Additionally, users can record unique content using HDR video, 4X Slow Motion in 1080p at 120 fps or 8X Slow Motion in 1080p at 240 fps.
Pilots can record 12-megapixel images or choose a new high-resolution 48-megapixel feature that photographs in stunning detail, while a mechanical 3-axis gimbal helps compensate for camera shake to create smooth and stable footage, even in unpredictable scenarios.
Taking full advantage of the large Quad Bayer 1/2″ sensor, the Mavic Air 2 is the perfect tool to take creativity to the next level with a suite of image capture modes. The newly added SmartPhoto records 12-megapixel photos using advanced scene analysis and deep learning to automatically choose one of three image capture options.
HDR photos: Mavic Air 2 automatically captures seven varying exposures of the same photograph, merging them together to bring out a highly dynamic image.
Hyperlight: Hyperlight is designed for low-light scenarios, taking multiple photographs and merging them to bring out a clear image with less of the noise which usually occurs in low-light scenes.
Scene Recognition: Mavic Air 2 can recognize five categories of scenes including sunsets, blue skies, grass, snow, and trees, then optimize settings to make the photograph pop by bringing out the highest degree of color, detail, and tones.
Despite only weighing as much as a small water bottle at 570 grams, the Mavic Air 2 features new motors, new electronic speed controllers (ESCs), enhanced battery technology and an aerodynamic design to provide a maximum flight time of up to 34 minutes.
DJI's proprietary OcuSync 2.0 transmission technology has been upgraded to deliver an extremely reliable and stable HD video feed from the drone at a maximum distance of 10km[3]. OcuSync 2.0 supports both 2.4GHz and 5.8GHz frequency bands and uses an auto-switching feature to move between the two based on signal strength, while anti-interference technology blocks unwanted signals to keep the video feed clear.
Mavic Air 2 is equipped with unprecedented new safety features to help make flying as safe as possible. Obstacle sensors on the front and rear of the drone warn pilots when they're too close to an object and can also be set to stop the drone from moving any closer to avoid collision.
Advanced Pilot Assistance System (APAS) 3.0 brings the next level of autonomous flying to DJI drones. When users enable APAS 3.0, as obstacles come into the drone's path, Mavic Air 2 will create a new path around, under or over the object to avoid collision, giving pilots the confidence to fly in more complex situations while focusing on capturing their ideal images. Using 3D mapping, the updated version aids in smooth transitions and more fluid movements around objects even in highly complex environments.
Powerful Intelligent Features
Mavic Air 2 is packed with optimized intelligent features allowing users to quickly and easily record images and video that deserves to be shared with the world. FocusTrack[5] is the most advanced tracking feature on any DJI drone and offers three different capture modes:
ActiveTrack 3.0: Select a subject for Mavic Air 2 to automatically follow. The third iteration of ActiveTrack uses state-of-the-art mapping technology and new flight path algorithms to offer improved subject tracking and obstacle avoidance, along with the ability to quickly re-engage the subject if it temporarily moves behind an object.
Point of Interest 3.0: Set an automated flight path around a specific subject. The updated iteration improves surface recognition to better dynamically track subjects.
Spotlight 2.0: Found in professional DJI drones, Spotlight locks a subject in the frame while the user has free operation of the drone's movement.
Pricing and Availability
The COVID-19 pandemic has introduced new complexities for global shipping and logistics of many products. As a result, the Mavic Air 2 will be initially available for immediate purchase in China today while other regions will begin taking preorders today with an expected ship time of mid-May. Mavic Air 2 will be available in two purchasing options: a standard package which includes Mavic Air 2, one battery, remote controller and all the required wires and cables for $799 USD, and the Fly More option which includes all items from the standard version as well as a shoulder bag, ND filters, charging hub, and 3 batteries for $988 USD. Mavic Air 2 is available for preorder through all authorized retailers as well DJI's online store.