Foreign tourists visiting Nepal increased by 160 percent in April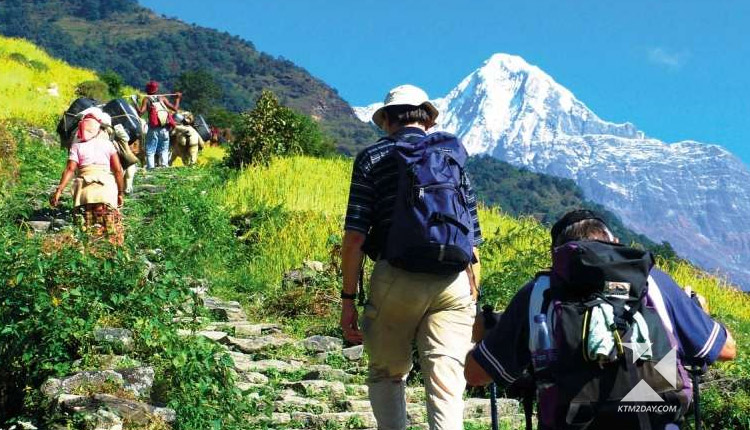 As a result of the Covid-19 pandemic, the country's tourism industry is in decline. The tourism industry has recently been more active, and tourism-related activities have increased as well.
The influx of visitors serves as the most compelling evidence for this claim. Since the beginning of 2022, the number of foreign tourists has constantly increased.
A total of 58,348 international tourists entered Nepal in April, according to figures from the Nepal Tourism Board. According to data, this is 160 percent more than in the same month last year's figures.
In the month of April, 52,663 tourists have left the country. Nepal was visited by 22,450 visitors in April 2021.
Tourist arrivals have decreased by more than half since 2019, according to data compiled by the board. Mani Lamichhane, director of the board, stated this year's tourist growth rate was 160% higher than last year's. According to the board 1,09,299 visitors arrived in April 2019.
There has been an increase in tourist arrivals this year. By the end of April, the number of tourists had increased by 53%. Lamichhane claimed the growth rate for the month of March was 45 percent.
In March of last year, there were 42,006 tourists that entered Nepal. Foreign tourists visited Nepal in record numbers in January and February, with 16,975 arriving in January and 19,766 arriving in the latter month.
There has been an increase in tourist traffic as a result of the board's strategic marketing in the international resource market and the hard effort and diligence put in by entrepreneurs, according to Director Lamichhane.
VISITORS ARRIVALs BY NATIONALITY ( air TIA )
Calendar Year: 2022 April VS 2021 April
Country of Nationality
April
% Change
% Share
April 2022
2022
2021
ASIA (SAARC)
Bangladesh
1,537
162
848.8%
2.63%
India
22,477
13,202
70.3%
38.52%
Pakistan
204
210
-2.9%
0.35%
Bhutan
86
47
83.0%
0.15%
Srilanka
244
55
343.6%
0.42%
Sub-Total
24,548
13,676
79.5%
42.07%
ASIA (OTHER)
China
281
803
-65.0%
0.48%
Japan
320
107
199.1%
0.55%
Malaysia
420
44
854.5%
0.72%
Singapore
148
26
469.2%
0.25%
S. Korea
385
83
363.9%
0.66%
Chinese Taipei
23
8
187.5%
0.04%
Myanmar
48
58
-17.2%
0.08%
Thailand
505
44
1047.7%
0.87%
Sub-Total
2,130
1,173
81.6%
3.65%
EUROPE
Austria
291
47
519.10%
0.50%
Belgium
530
101
424.80%
0.91%
Czech Republic
382
52
634.60%
0.65%
Denmark
361
28
1189.30%
0.62%
France
1,922
161
1093.80%
3.29%
Germany
2,097
219
857.50%
3.59%
Israel
926
133
596.20%
1.59%
Italy
470
55
754.50%
0.81%
The Netherlands
786
136
477.90%
1.35%
Norway
152
21
623.80%
0.26%
Poland
521
174
199.40%
0.89%
Russia
953
685
39.10%
1.63%
Switzerland
498
107
365.40%
0.85%
Spain
891
103
765.00%
1.53%
Sweden
268
37
624.30%
0.46%
U.K.
5,252
540
872.60%
9.00%
Sub-Total
16,300
2,599
527.20%
27.94%
OCEANIA
Australia
2,726
91
2895.60%
4.67%
New Zealand
98
12
716.70%
0.17%
Sub-Total
2,824
103
2641.70%
4.84%
AMERICAS
Canada
1,028
185
455.70%
1.76%
U.S.A.
6,954
2,740
153.80%
11.92%
Sub-Total
7,982
2,925
172.90%
13.68%
OTHERS
4,564
1,974
131.20%
7.82%
Total
58,348
22,450
159.9%
100.0%
Source:  Immigration Department
Analyzed & Compiled by: Nepal Tourism Board