Intel Core i9-13900KS breaks Overclocking World Record by crossing 9 GHz barrier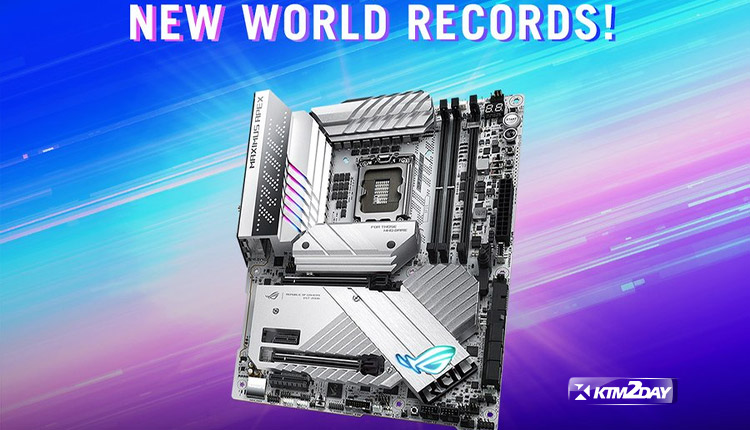 With an Intel Core i9-13900KS, which will be showcased at the CES 2023 trade show in Las Vegas from January 5 to 8, 2023, Asus has once again broken multiple overclocking world records, including the formerly "hard" to break barrier of 9 GHz.
Extreme overclockers from Asus ROG have successfully run and validated an x86 processor at 9 GHz, following their earlier successes in operating an Intel Core i9-13900KF at 8.2 GHz and then with a new world record clock of 8.8 GHz in October of this year.
The following information is from the manufacturer and pertains to the new world record, which was accomplished with an Asus ROG Maximus Z790 Apex motherboard:
Engineering Sample Intel Core i9-13900KS; OverClocked Speed: 9,008.82 MHz

The bus clock was set to 100.2 MHz, while the multiplier was set at 90.0.

Using liquid nitrogen, it was cooled to a pressure-free temperature of about 24.15K (- 249 °C) (LN2)

Motherboard BIOS and LN2 tweaked Asus ROG Maximus Z790 Apex

Compared to its stock clock speed of 6.0 GHz using Intel Thermal Velocity Boost (TVB), it has been increased by over 50%.
In 2014, when overclocker "The Stilt" managed to get an AMD FX-8370 to over 8.7 GHz, 9 GHz was thought to be an almost unattainable barrier; it was only recently that it was broken.
Intel Core i9-13900KS
The Core i9-13900KS has not yet been formally introduced by Intel, but it will be a higher-clocked variant of the Core i9-13900K.
Both the Core i9-13900K and the binned KS models will feature the same 24-core/32-thread configuration, with 8 Performance cores (P-cores) and 16 Efficient cores (E-cores), as well as 36MB of L3 cache.
The KS variant differs primarily in that its maximum turbo frequency is 6 GHz, 200 MHz greater than that of the Core i9-13900K. Various turbo boost settings and, of course, E-core clocks are also likely to offer slightly higher base speeds. Intel's latest Core i9-12900KS CPU follows this design philosophy.
There are 14 new records set by Asus
There were a total of 14 new world records and 29 new personal bests in individual benchmarks, with highlights including a run of PiFast in just 6.85 seconds and a new best performance in SuperPi with roughly three minutes.
Intel Core i9-13900KS is unveiled in a video
A video titled "Asus pushes Intel Core i9-13900K to 9.008 MHz" was released by Intel themselves; nevertheless, it is made clear in multiple screenshots taken with the CPU-Z tool that the CPU in question is, in fact, a Core i9-13900K or a variant thereof.