L'Oréal Perso gadget produces real-time makeup through app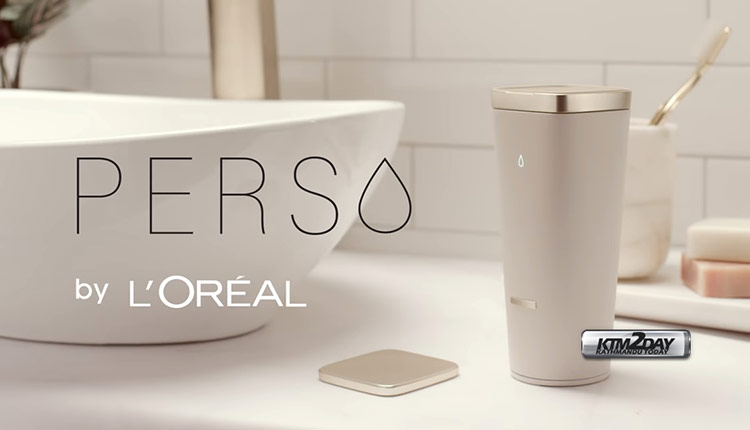 Cosmetics manufacturer L'Oréal today presented at CES 2020 Perso, its new smart gadget that promises to produce in real time the ideal makeup for the user. The product is connected to the smartphone by Bluetooth and allows lipstick and base tones to be determined according to your preference. The gadget can also create cosmetic blends with skin care properties, which takes care of skin health after the use of beauty products.
With the Perso app, users are able to mix and match lipstick and base colors. The product uses artificial intelligence technology which was demonstrated today by the company at CES. The app may suggest colors and tones from a user skin analysis by smartphone camera, and may also suggest the latest trends for lipsticks, for example.
Perso's hardware features a uniquely designed motor system located at the top of the device which moves and compresses the formula from the cartridges at the base of the machine in an upward motion to the dispensing tray above.
With regular use, Perso's AI platform will be able to assess skin conditions over time, letting the user know what is working and will automatically adapt future formulas based on personal results.
The Perso gadget app has several images already selected in it's database to show the user the products most used by influencers and also on social media. According to L'Oréal, users will be able to connect their social media accounts to the software as soon as the product hits the market.
In addition, the user can also view the pre-selected colors in themselves by the use of augmented reality in the app.
As part of L'Oréal's commitment to streamlining the personalized beauty experience, Perso features a seamless automatic refill process that ensures its custom, NFC-tagged cartridges are always stocked and ready for daily use. Users can easily manage shipments from the Perso mobile app.
L'Oréal's Perso artificial intelligence uses the application's camera to scan the user's face from different angles. From this analysis, the gadget can create a facial treatment routine. Skin treatment cartridges, unlike lipstick and base cartridges, have FPS, moisturizer and serum. L'Oréal Perso is expected to hit the market in 2021.