Ncell launches 'Nonstop YouTube' offer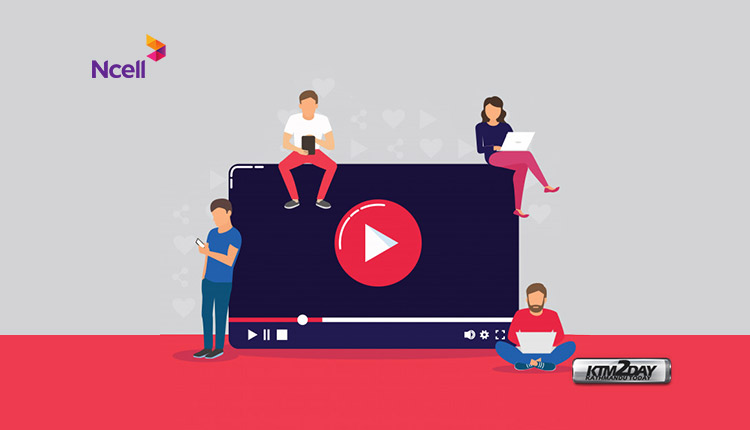 Data bundled YouTube special offer under umbrella theme 'Plus'
Customers can use YouTube as much as they can at just Rs 100 for a week
Comes with additional 4 GB all time all network data
Provision of add-on data for Facebook and Tiktok
All 4G customers of
Ncell
can now enjoy nonstop access to popular video streaming platform YouTube. Customers can enjoy YouTube contents as much as they can without fear of videos consuming heavy data and cost.
Ncell Private Limited has introduced an exciting offer 'Nonstop YouTube' for customers in 4G network, under its new umbrella theme 'Plus', which aims at liberating customers with unique and special offers and at the same time ensures access to new innovative solutions giving customers an ease to be connected all the time whether at home or on-the-go.
In 'Nonstop YouTube' offer, 4G customers can enjoy worry free access to YouTube at 480p for a week at just Rs 100 (Rs 127.69 including taxes). That is not all; customers subscribing to this offer also get 4GB additional all time all network data which they can use for other purposes.
Both nonstop access to YouTube contents in 4G network and 4GB all time all network data are applicable for 7 days. There is also a special privilege to customers buying this pack as they can subscribe to additional attractive packages for surfing Facebook and TikTok at more affordable rates.
Once customers subscribe to 'Nonstop YouTube', they are eligible to buy 3500 MB 4G data at just Rs 20 (Rs 25.53 including taxes) which can be used 500 MB per day for 7days for using Facebook. Similarly, at the same rate, customers who prefers to use TikTok can subscribe to 3,500 MB 4G data. Customers will be able to use 500 MB every day for 7 days to enjoy Tiktok. As per the need of customers, they can also subscribe to both Facebook and Tiktok add-on data.
4G users can easily subscribe to this offer by dialing *17123*1# and following the instructions. Similarly, after subscribing to this offer, customers can buy add-on data for Facebook and Tiktok.
Ncell has launched this Nonstop YouTube offer targeting 4G users, in line with its commitment to provide quality service to customers at affordable rates. After launch of 4G in 2017, the company has widely expanded it 4G network in the country.
Ncell has stated that the company is delighted to introduce 'Nonstop YouTube' offer to ensure access to vast video library of YouTube at a time the country is witnessing a massive growth in data utilization supported by video contents. The company believes that the offer bundled with 4GB all time all network data and facility for customers to subscribe add-on data for popular social networking platforms will add a great value to customers.
To be eligible to take benefit from this Nonstop YouTube offer, customers should have Ncell 4G SIM and they should be in 4G coverage network area with 4G network compatible handset.
Customers who have not upgraded their 3G SIM cards to 4G SIMs, can easily upgrade their SIM cards by visiting nearest Ncell Centres and while doing so they also get additional 1 GB day pack data volume for free.
In line with its commitment and the new umbrella theme 'Plus', Ncell will continue to bring more exciting offers for customers. Stay tuned.