Ncell Axiata brings attractive Ultra Wi-Fi SIM+ with 40 GB data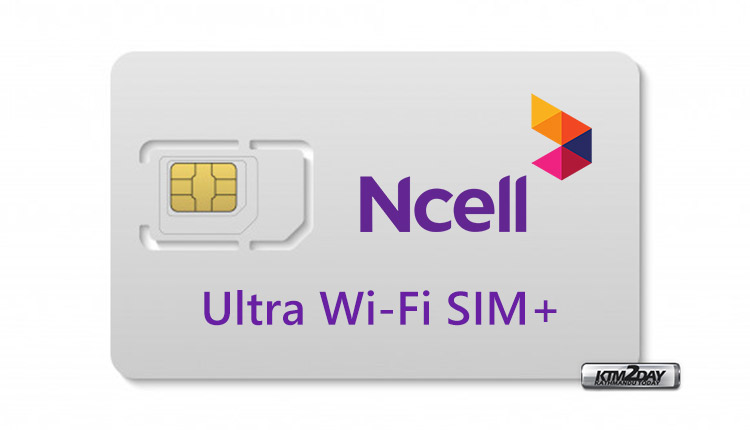 For consumers who are in need of hassle free and affordable Wi-Fi solution for their home or small office, there is a new attractive service. Ncell Axiata Limited (previously Ncell Private Limited) has launched 'Ultra Wi-Fi SIM+' service which is available in all its fourth generation (4G)/long term evolution (LTE) service locations across the country.
Ultra Wi-Fi SIM+ is a special SIM that users can easily subscribe and get monthly 40GB bundled data volume for wireless data service. That is not all; customers also get two 4G SIMs with bundled service of data, on-net talk time and digital services in each SIM card every month.
As a part of its umbrella campaign "Plus", the company has launched this service focusing on the consumers within nationwide expanded 4G network to address need of their increased demand for wireless connectivity.
Customers can simply plug in this SIM in their handset or any 4G compatible device for data connectivity or they can use it in handsets, Mi-Fi devices and Wi-Fi routers to take Wi-Fi or hotspots service from other devices. Once the customers insert the SIM in any of 4G compatible devices, the nearest mobile tower of 4G network site will be locked, and the service will be accessible within the area served by that tower site.
"We are delighted to bring 'Ultra Wi-Fi SIM+', a hassle free and affordable Wi-Fi solution with bundled service to our customers in all 4G coverage areas," said Pradeep Shrivastava, Chief Commercial Officer of Ncell Axiata. "We believe that the access to service targeted for home and small businesses will further facilitate customers with opportunities of being connected and going online."
It costs monthly Rs 430 (excluding applicable taxes) on a yearly subscription for customers to use this service. Customers subscribing to the Ultra Wi-Fi SIM+ get 40 GB Wirefree+ data every month for Wi-Fi service. Additionally, customers are also entitled to get two 4G SIMs in which they get 5GB mobile data, 50 minutes of on-net talk time in each SIM card and access to digital services—Prabhu TV and Daami Music every month as a bundled package.
Another special feature of this service is; 24X7 customers care service. Earlier, on August 4, the company had also launched Wirefree+ Wi-Fi, an attractive bundle of device, Wi-Fi service, talk time and data, in 40 plus districts for customers who need comparatively large volume of wireless data service for household or business use through the use of router.
Resources that customers get under Ultra Wi-Fi SIM+ will recur in every 30 days as per the service option selected by the customers. Resources will not accumulate and will expire every 30 days.
In line with its umbrella 'Plus' campaign, Ncell Axiata has already launched various offers which include Wirefree+ Wi-Fi, Nonstop YouTube+, Endless Kurakani +, Sajilo SIM+ and will continue to bring more exciting offers for its customers. 'Plus' campaign aims at liberating customers with unique and special offers ensuring access to new innovative solutions to be connected constantly whether at home or on-the-go with wireless connectivity.
Consumers can easily subscribe to Ultra Wi-Fi SIM+ from nearby Ncell Centres. For more information, Ncell Axiata customers can call at customer care number 9008 and other customers can dial 9809008000.