Ncell starts pre-booking of "Wirefree Plus" WiFi bundled service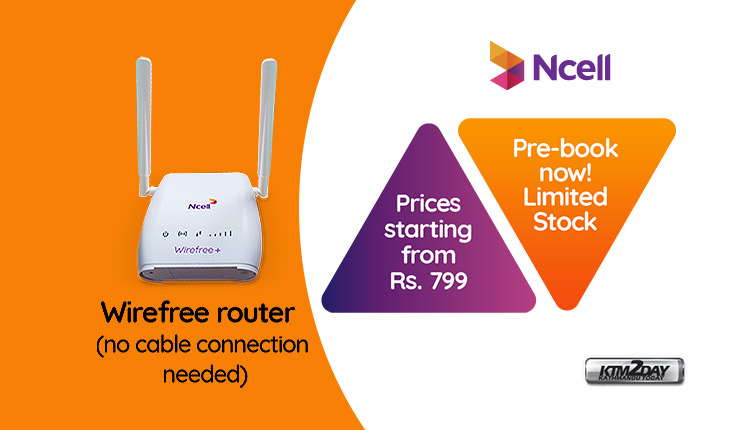 Consumers in Nepal will soon be able to experience quality wireless internet and WiFi connectivity without any hassle with attractive bundled service. Ncell Private Limited has announced that it has started pre-booking for Wirefree Plus WiFi service under its new theme 'Plus'.
Ncell has stated that for the first time in Nepal, it's going to offer quality and reliable "Wirefree Plus" WiFi service suitable for both home user and business purposes based on the latest technology. Customers interested in availing this service can book at Prabhu Pay, Prabhu Kiosk and the nearest Prabhu Remit counter.
The main feature of WireFree Plus WiFi service is the attractive bundling of various services. Under the bundling service, customers will be offered 2 SIM cards with 5 GB data in each SIM and 425 minutes talk time per month along with rich mobile content within the Ncell network such as music in Hungama App, Daami music, Prabhu TV and MobiPlex.

The company is taking pre-bookings in three categories including Gold, Platinum and Diamond bundled with wireless WiFi device, SIM cards and large data volumes. Customers can avail packages of 30 days, 90 days, 210 days or 420 days under any category as per their requirement. The package fee starts from Rs. 799 (excluding tax) which will be valid for 30 days.
Depending on the package deadline, the customer has to pay a one-time customer fee of Rs.500, Rs.2,500 or Rs.3,500. Subscription fee is waived off in all the plans that are valid for 420 days.
According to the customer subscribed package, the services available under these packages will only be valid for 30 days period and any unused or remaining services will not be rolled over to the next month.
Speaking about the WireFree Plus WiFi service, Ncell's Chief Commercial Officer Pradip Srivastava said, "Our aim has always been to keep our customers satisfied by providing the best service and facilities as per their requirements." We want to ensure that customers get a better service experience through the connectivity solutions we provide. This WireFree Plus WiFi will give customers a new experience of wireless data connectivity. We believe this service will connect more people to the Internet and connect them with new opportunities. "

Initially, the service will be available in more than 40 districts throug out the country from Kanchanpur, Baitadi, Dadeldhura in the far west to Morang, Sunsari and Dhankuta in the east. Under the special scheme, these pre-bookings are brought for a limited period only.
Fast, consistent and backed by 24×7 customer support, this new service will provide customers with a new Internet service experience.
Under its new theme 'Plus', Ncell has also launched an attractive 'Nonstop YouTube' offer for its 4G customers. The 'Plus' theme aims to ensure that customers have access to the service wherever they are, with innovative and specialized services. If the commercial flight resumes, Ncell plans to start this service from the first week of August.
| Ncell WireFree+ | Gold | Platinum | Diamond |
| --- | --- | --- | --- |
| Price (excl. of taxes) | 799 | 999 | 1099 |
| Wirefree Data | 60GB | 85GB | 100GB |
| Voice (Minute) (Ncell to Ncell) | 200 | 500 | 1000 |
| Mobile Data (GB)-2 SIM bundle with data provision | 5 GB X 2 SIMs | 10 GB X 2 SIMs | 10 GB X 2 SIMs |
| Prabhu TV | Included | Included | Included |
| Mobiplex | Optional | Included | Included |
| Hungama Music | Optional | Optional | Included |
| Daami Music | Included | Included | Included |
For Ncell: 9008
For Others :+977-9809008000