OnePlus Concept Phone Unveiled at CES 2020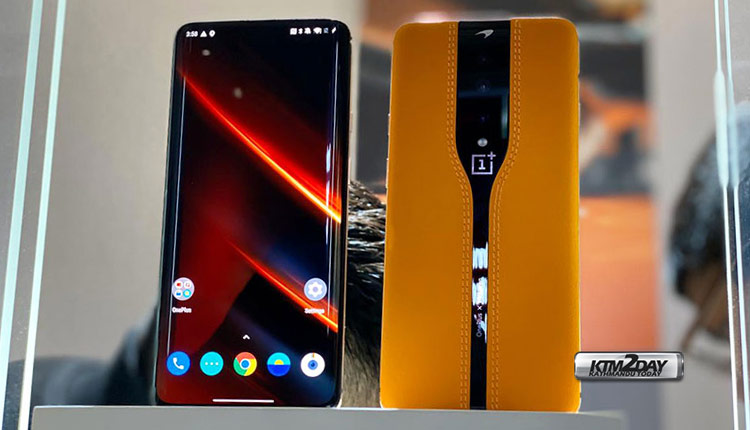 OnePlus today introduced its first concept phone, the OnePlus One Concept at CES 2020 . This smartphone is the first phone in the industry to use electrochromic glass, a crystal that lets you change your look from transparent to translucent, giving your phone the feel of an "invisible camera".
This device represents an innovation in the CMF design experience (color, material, finish) and lays the foundation for future smartphones with radically renewed design and features. To spice things up, OnePlus collaborated with McLaren – the famous racing and technology car company renowned for making high performance and luxury sports cars – in the design of the conceptual smartphone, inspired by the brand's spirit and style.
OnePlus Concept One is now official
This conceptual phone represents a significant advance in the design of smartphones of the future. OnePlus has undertaken this initiative to take the user experience to the next level. The invisible camera is presented as a new form of design that avoids the user all the inconvenience of current camera designs. Thus, the rear camera lens appears hidden behind the electrochromic glass and is visible only when the camera is in use. This solution is what OnePlus calls "electrochromic CMF" – a new focus on industrial design – said Pete Lau, CEO and founder of OnePlus.  This kind of innovation is just the beginning of many other possibilities that will be offered in the future.
Since its inception, OnePlus has been concerned with providing its users with a great design and continuously experimenting with the CMF experience to create more comfortable devices. In fact, bamboo, wood, Kevlar, Alcantara, frosted glass and ceramics are elements that OnePlus used for the first time in the industry in the design of its smartphones to achieve not only a good final finish but also a better user experience.
OnePlus Concept One's crystal uses organic particles to generate changes in transparency, so it changes its appearance from transparent to translucent in an instant. By featuring a smooth, untouched rear surface when the camera is not used, the company's unlimited design philosophy is unveiled. Glass also offers other advantages as it acts as a polarizing filter, allowing users to get clearer, more detailed images in brighter light scenes.
Partnering with McLaren has enabled the brand to launch two limited edition devices and is a reflection of a shared passion for design, craftsmanship and innovation. OnePlus Concept One is inspired by technology similar to that used in McLaren's luxurious Spider 720S sports car, which features a retractable glass roof with an electrochromic glass panel that can easily change its look. In addition, the OnePlus Concept One design integrates glass and leather, very similar to that used in equipment specially designed for McLaren's luxury cars, such as the iconic orange papaya, a tribute to McLaren Racing's history and those in attendance in the current Formula 1 car.
While electrochromic glass has already been used on limited occasions in cars and airplanes, miniaturizing this technology for use on mobile phones has been a major challenge and involvement for OnePlus R&D staff.
The most advanced electrochromic glass
One of the most important challenges was that the glass was exceptionally thin and light, without affecting its strength. Electrochromic glasses are usually composed of two glass panes with a color-changing material between them. For OnePlus Concept One, the company was able to manufacture a thinner glass than currently produced. In this case, the glass panels are only 0.1 mm each, which represents a total of 0.35 mm when combined, similar in thickness to a screen saver.
Instant color change – 0.7 seconds only
For the best and simplest experience possible, the speed of changing the appearance of the OnePlus Concept One's invisible camera has been rigorously examined and calibrated. Thus, the OnePlus smartphone's conceptual camera takes just 0.7 seconds to go from translucent to transparent black.