Oppo Enco R Pro TWS earbuds launched with 12.4mm dynamic drivers, ANC, 28 hours battery life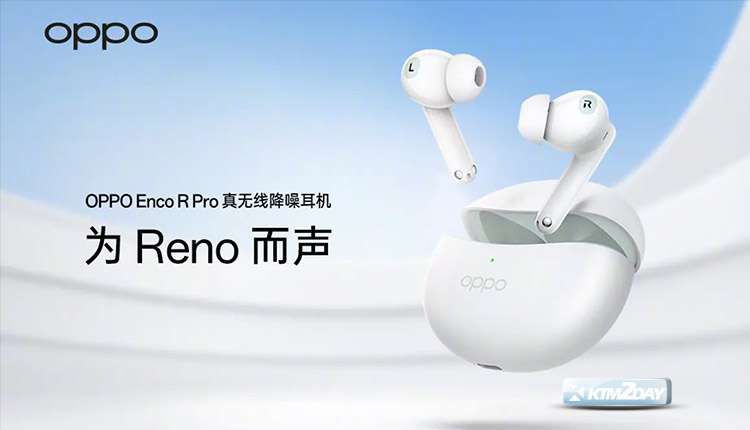 As part of the unveiling of the Oppo Reno 9 series on Thursday, Oppo also introduced the Enco R Pro, a pair of true wireless stereo (TWS) headphones.
These are an updated version of the Oppo Enco R headphones, which were first released in May 2022.
Oppo claims that the combined runtime of a single Enco R Pro battery can reach a whopping 28 hours.
Also Check : Oppo Mobile Price in Nepal
For an all-encompassing listening experience, the company has included dynamic drivers measuring just 12.4 millimeters in diameter.
Oppo's TWS headphones allow for individualized control via touch-sensitive earbuds.
Oppo Enco R Pro's Technical details and Features
The 12.4mm dynamic drivers in these TWS earphones, together with the unique bass concentrator, are said to produce a powerful bass response.
The earbuds of the Oppo Enco R Pro, in contrast to those of the Oppo Enco R, have silicon tips.
Oppo claims that their Active Noise Cancellation (ANC) technology uses a dual-core noise-reduction processor.
Oppo Enco R Pro handsets have high-definition microphones and an artificial intelligence-powered noise reduction function for phone calls.
The charging cover for the earphones is designed like a shell, and the earbuds itself have touch controls.
According to the manufacturer, these TWS earbuds have a playback time of up to 28 hours.
As it uses Bluetooth v5.2 technology, which provides a dual transmission link with reduced latency, these TWS earbuds are great for gaming.
Oppo's Enco R TWS headphones went on sale in China in June for the equivalent of CNY 299 (about US$ 42). They include a Bluetooth v5.2 connection with a driver size of 13.4 millimeters.
Unfortunately, Oppo did not include active noise cancellation. Oppo advertised that you could get 20 hours of playback time from its TWS earbuds.
Oppo Enco R Pro Price in Nepal
The Oppo Enco R Pro will go on sale in China on December 2 at the price of CNY 499 (around US$ 70).
In addition, when you buy a phone from the Reno 9 series, you'll get a CNY 100 ( 1,100) voucher toward the purchase of Oppo's brand-new TWS headphones.