Playfit Slim 2C launched with 1.3 inch IPS display, IP67 rating and Bluetooth calling feature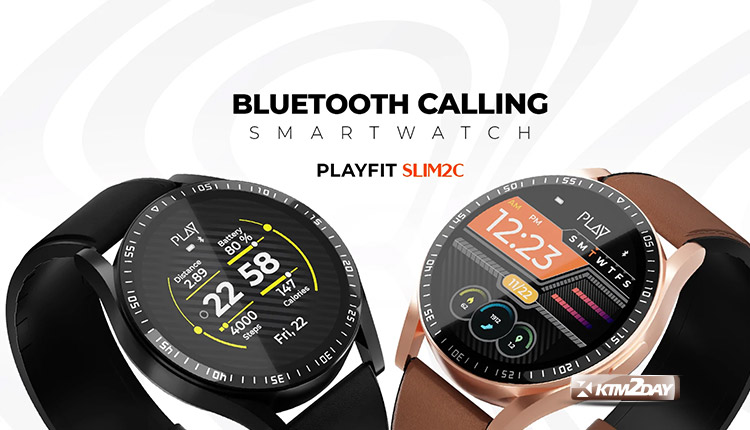 Tuesday saw the debut of the Playfit Slim 2C smartwatch, produced by Play, a company with roots in India. The business claims that the wearable, which takes inspiration from high-end fashion timepieces, is equipped with all the technology found in modern smartwatches.
"We are excited and energized to announce the release of the PLAYFIT SLIM2C to our customers. This product represents a significant step forward in the evolution of smart wristwear. The PLAYFIT SLIM2C is convincing evidence that cutting-edge technology and chic aesthetics can coexist happily. Launched at a pricing point that is particularly customer-centric in the Indian market, it yet manages to compete with its international counterparts in terms of design and functionality "Play's Spokesperson Hamish Patel remarked this.
Details on the PLAYFIT SLIM2C
The IPS display on the PLAYFIT SLIM2C is 1.3 inches in size and can produce 500 nits of brightness. This wearable device is a flat circular dial with a navigation button on the side.
It is offered in both black and champagne hues. The PLAYFIT software is what makes this smartwatch work, letting you change the watch face, tweak the settings, and sync your health and fitness data with your phone.
The Play companion app, the business claims, adheres to Indian law on the storage and disclosure of personal information by storing it on servers located in India.
It works with iOS and Android devices alike. Additionally, it works with any PLAYFIT gadget. This ensures that even if a user upgrades to a later version of the Play devices, their previous data will remain intact.
The PLAYFIT SLIM2C has a built-in microphone and speaker so you can make and receive calls over Bluetooth. For protection against dust and water, it has an IP67 rating.
The device can track your pulse and measure your blood oxygen levels. In addition, the watch monitors physical activity, caloric intake, and nightly rest. In addition to social network alerts, it also provides weather forecasts, a reminder to drink water, and an alarm for excessive sitting.
Play claims that the PLAYFIT SLIM2C has a 5-day battery life.
Playfit Slim 2C Price in India
The lifestyle-focused wearable will be sold for Rs 3,999 on the company's website, Amazon, Flipkart, and select retail shops beginning on November 22.