Xiaomi confirms Poco F2 existence, launching soon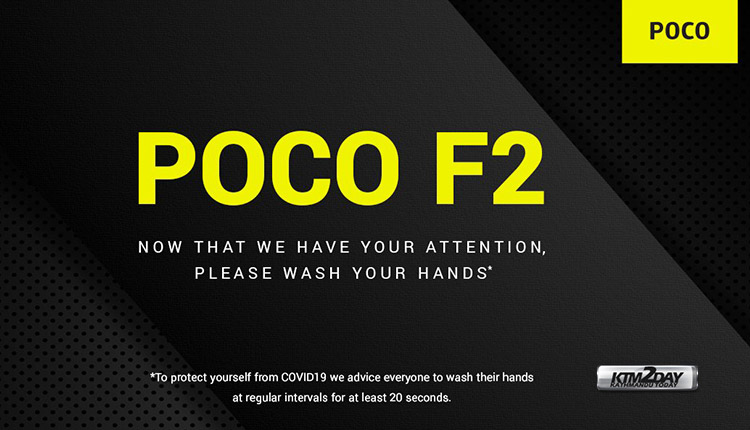 The recently introduced Pocophon X2 was not exactly what fans expected from the most anticipated Poco brand from Xiaomi. The Poco F1 was launched with flagship specs at a price of a premium mid-range smartphone and fans of Poco F1 are desperately waiting for the company to launch its second iteration of this device.
We still have no idea whether the device will repeat history by presenting a flagship device at one-third the price being offered by top manufacturers. But today finally we have some good news about the Poco F2.
Poco, a sub-brand of Xiaomi has confirmed the existence of the Poco F2 Pro smartphone in it's twitter post today.
Poco India made the announcement via it's official twiiter page by posting an image with the word "Poco F2″ and below it says " Now that we have your attention, please wash your hands ".
This sentence is intended to alert fans to the Coronavirus pandemic that is spreading around the world at a speed never seen before.
What we know about the Xiaomi Pocophone F2
We can draw some conclusions about what will be Xiaomi's next flagship device like(or its sub-brand Poco). The handset should have the same ideology as the first device, however, with a slightly higher price.
Following specifications of this device is being speculated;
Snapdragon 865 processor
64MP main camera
AMOLED Display
In-Display Fingerprint Reader
Premium Build Quality
Fast Charging
Larger Battery
One of the big differences of Poco F2 from it's predecessor, which was revealed in 2018, will be its build quality. Poco's first smartphone arrived with a plastic construction, the company is expected to listen to it's fans and correct this on the upcoming Xiaomi Pocophone F2. This is because Xiaomi has already discovered how to build it's device with excellent build quality but at a lower price.
In short, the next Xiaomi Pocophone F2 is expected to hit the market in April/May this year. With the Covid-19 outbreak, things are not going right and we will have to wait a little bit more.