'Promote NTY 2011 in your country'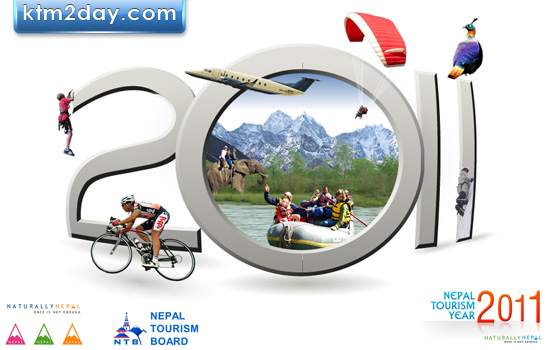 Tourism entrepreneurs urged the ambassadors of different countries to help promote Nepal Tourism Year (NTY) 2011 in their respective countries.
During a programme organised by Nepal Tourism Board (NTB) to inform them on NTY 2011, Kishore Thapa, Secretary at the Ministry of Tourism and Civil Aviation (MoTCA), requested the ambassadors to convey the message that Nepal is a safe, adventurous and peaceful destination.
He also urged the ambassadors to encourage people from their respective countries to visit Nepal.
Ambassador of Japan, Bangladesh, and Sri Lanka to Nepal and representatives from China, Malaysia, Pakistan attended the programme.
Madan Kumar Bhattarai, secretary at the Ministry of Foreign Affairs (MoFA), focused on significant contribution of tourism industry to the national GDP. "We are now focusing on economic revolution and tourism industry is the key foreign currency earner and contributor to national economy," he said, adding that millions of Chinese travel to a number of destinations in the world and even a small percentage of those tourists come to Nepal, it could make a huge difference to Nepali tourism industry.
NTY 2011 aims to bring one million tourists in 2011 and according to the annual tourist arrivals trend in Nepal, it is hosting more than half a million tourists since the year 2007. Some, 526,705 tourists visited Nepal during the year 2007 whereas it was 500,277 during 2008 and 509,956 tourist arrived in Nepal during 2009.
"We are already receiving 50 per cent of our target for the NTY 2011," said Prachanda Man Shrestha, chief executive officer of NTB. "Hence a small effort can definitely contribute largely to achieve our target," he said.
"Currently 27 international airlines are flying to Nepal and during NTY 2011, NTB expects to receive seven lakh visitors by air and three lakh visitors by land."
Meanwhile, Nepal Association of Tour and Travel Agents (NATTA) got the membership of Tourism Council of Thailand.
According to Yogendra Shakya, coordinator of NTY 2011 committee, along with the target of one million tourists for NTY 2011, the committee is planning to bring home two million tourists under 'Vision 2020.' NTY 2011 was announced in September 2008. The campaign will be officially launched on January 14, 2011 at 11:30 am at the National Stadium with around 20,000 participants.(Source:THT)