Realme Buds Air 3S TWS launching soon alongside Realme 10 series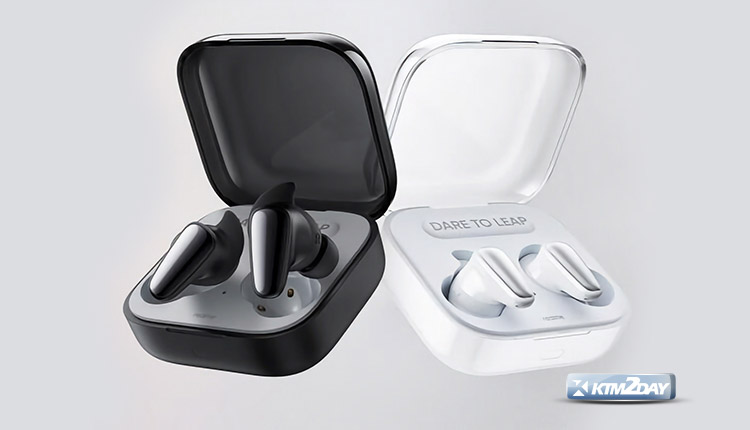 The Realme 10 series from the Chinese tech company Realme, will debut in China on November 17. Company officials have also announced that they would be releasing a new set of fully wireless earphones in addition to the 10 series.
The company has released teaser posters indicating that the new headphones would be called Realme Buds Air 3S.
The posters give us a clear look at the appearance of the upcoming totally wireless earphones, even if the specifications are currently unknown.
Also Read : Realme Mobile Price in Nepal
The official poster reveals that the new earphones have short stems, making them appear more compact and lightweight.
Ear wings are incorporated into the design as well, keeping the buds securely in the ear canal.
The new model also includes a square charging box. DARE TO LEAP is engraved on the inside of the charging box. The phrase is Realme's new tagline, which succeeded the similarly catchy "Proud To Be Young."
In China, you can supposedly preorder a Buds Air 3S now. There will be two colorways to choose from, a bright white and a dark black.
There won't be much of a difference between the Buds Air 3S and the Buds Air 3 Neo, which debuted in July in terms of technical specifications.
Incorporated within the design of the Air 3 Neo is a 10mm moving coil bass driver. Additionally, it has a 30% improvement in physical resistance to wind noise and supports AI electronic noise cancelling.
The Air 3 Neo Buds are water-resistant to an IPX5 standard, support Bluetooth 5.2, and have an ultra-low latency of 88ms.
Realme Buds Air 3S TWS Price in Nepal
It's priced reasonably at 129 yuan, which is roughly $18 or Rs. 2378. The price of the Buds Air 3S is probably going to be somewhere in this range in the domestic market.