Nokia opens up two new stores in Kathmandu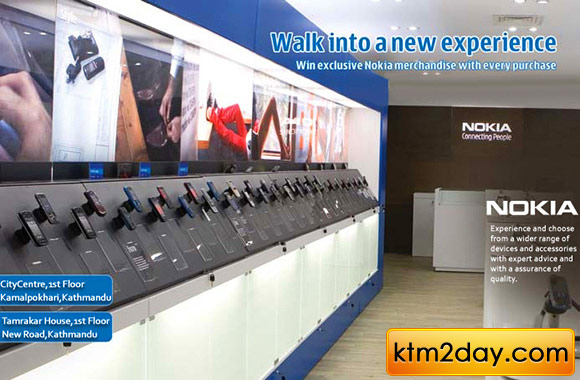 Nokia today opened two stores in the valley — one at the City Center and the other at the Tamrakar House — offering a wide range of authentic Nokia devices and accessories.
"Nokia stores are designed to provide consumers with a unique three-dimensional experience with the brand," said Prem Prakash Chand, General Manager for Nokia Emerging Asia while inaugurating the store at City Centre.
The main motive behind the opening of these stores in Kathmandu is to provide consumers reliable and authentic services along with genuine product guarantee. "Consumers will have peace of mind when they buy from a Nokia store as all the products are authentic. If an individual is paying top price for a product he will know that he has not been duped," added Chand. The sales staff at the Nokia stores have been fully trained at the Nokia academy and are well versed with the range, features as well as functioning of each product.
Nokia is also providing four authorised customer service centres in Nepal. "We at Nokia are catering to the consumers, and there is something for everybody. For us, solutions go beyond just the device," said Chand.
He added that the Nokia stores will remain in relative sync with the products launched in the international market.
"Every device that has been launched internationally in the past eight weeks can be availed of in these Nokia stores in Kathmandu," he said.
Chand said the market in Nepal has a lot of potential. He added, "Our next billion subscribers will be from the emerging Asian countries and Nepal holds a strong position."
—————————————————————————————————————
Similar Posts: