Cabinet meeting at Mt. Everest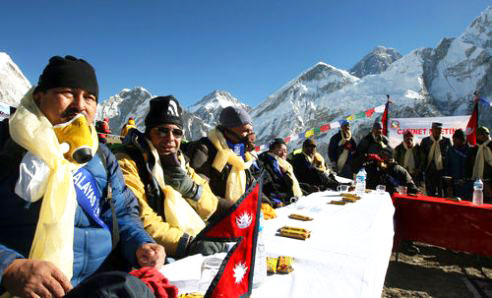 Scientists say the Himalayan glaciers are melting at an alarming rate, creating lakes with walls that could burst and flood villages below.
On Friday, to highlight the danger that global warming poses to glaciers, Nepal's government held a Cabinet meeting at Mt. Everest – a stunt the government billed as the world's highest Cabinet meeting. The ministers posed for pictures, signed a commitment to tighten environmental regulations and expand the nation's protected areas, and then quickly flew away.
"The Everest declaration was a message to the world to minimize the negative impact of climate change on Mount Everest and other Himalayan mountains," Prime Minister Madhav Kumar Nepal later said.
The Prime Minister, his two deputy prime ministers and the 20 Cabinet ministers were examined by doctors before boarding helicopters to Kalapathar, a flat area at an altitude of 17,192 feet (5,250 meters) next to Everest base camp, the jumping point for climbers seeking to scale the peak.
The Cabinet spent only 20 minutes next to the mountain to prevent any of the ministers, unused to the heights of the Himalayas, from getting altitude sickness.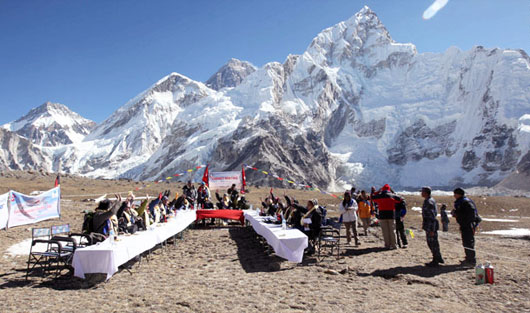 Several of the ministers were overweight, some were in their 70s and many came from the low-lying plains in the south. Four ministers declined to attend either because of health concerns or because they were traveling abroad.
Nepal's negotiation team at the climate conference in Copenhagen next week will push for wealthy countries to commit 1.5 percent of their earnings to help poorer nations protect the environment.