Nepal Telecom's 3G, now available on postpaid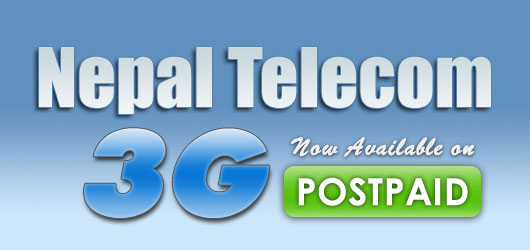 Nepal Telecom is introducing the 3G postpaid service from the first week of March. NT currently has 3G service only for prepaid connections.
Surendra Thike, spokesperson of Nepal Telecom, said the telecom giant would possibly launch the service from Thursday. NT plans to distribute 175,000 postpaid 3G SIM cards in Pokhara and Kathmandu.
NT had introduced 3G for the first time in South Asia in 2007. The service was launched as a trial version in Kathmandu Valley on prepaid connections. But the coverage area was limited due to only eight Base Tower Station (BTS) for the service. A total of 672 users are using 3G facility at present, according to Thike.
The main feature of 3G service is video conversation. Internet connection in 3G service is faster than other connections. 3G users can also watch television in their mobile sets, according to Thike.
Thike said only a few people are using 3G service due to lack of mobility in more areas. "Our experiment was successful and we are encouraged by the outcomes. We hope more people will buy 3G connections now," Thike said.
As a part of its expansion plan, NT has installed 63 BTS between Kathmandu and Pokhara.
Rate for 3G postpaid
If you are currently using postpaid connection of NT, you can have 3G connection using your existing number. Thike said NT will provide 3G connection at Rs 4,745, which includes deposit, ownership tax, activation charge and registration charge.
According to NT, the charge for voice, GPRS and Short Message Text (SMS) on 3G connection is the same as in 2G. The monthly rental for 3G postpaid connection is the same as the existing postpaid connection – Rs 300 per month.
The video call tariff has been set at Rs 4 per minute and the multimedia messaging (MMS) charge has been fixed at Rs 2.50 per message. The charge per MMS in 3G prepaid has been fixed at Rs 5.