Buddha Air and Air Dynamic to start international flights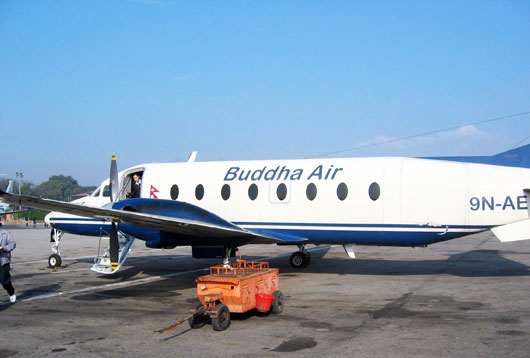 The Ministry of Tourism and Civil Aviation has approved the business plans of Buddha Air and Air Dynamic to operate international flights.
Buddha Air has been permitted to use class C airspace while Air Dynamic has been cleared for class B airspace.
A cabinet meeting on March 18 approved the plans of these two airlines after they fulfilled the terms of reference, a ministry source said. The carriers have been asked to collect the letters of intent from the ministry within a week.
Every five years, the ministry reviews applications from airlines wanting to go international. This time, the ministry has fixed classes A, B and C airspace for airlines wanting to operate internationally.
Class A airspace has been set for airlines whose flights last longer than three hours. Class B is for flights lasting three hours, and class C has been designated for carriers operating flights of less than three hours' duration.
Shri Air, Unity Air, Buddha Air and Air Dynamic had acquired the terms of reference from the ministry on Feb. 22 to spread their wings to international routes. The business plans of the first two are still being processed, the ministry said. Buddha Air has been permitted to fly on the Pokhara-Lucknow, Janakpur-Patna and Kathmandu-Paro(Bhutan) sectors. The carrier's fleet consists of five 18-seater Beechcraft-1900D and two 47-seater ATR-42.
Similarly, Air Dynamic intends to fly on the Bhairahawa-Gaya, Kathmandu-Delhi, Kathmandu-Karachi, Kathmandu-Doha, Kathmandu-Bangalore, Kathmandu-Bagdogra and Kathmandu-Kuala Lumpur routes. The airline would expand its wings to Europe, Hong Kong and Malaysia subsequently.
Air Dynamic plans to acquire two Boeing 737-800 and one ATR-72 aircraft for its services.
"We are flying between Kathmandu and Gaya targeting pilgrims during the upcoming Nepal Tourism Year 2011," said Kaziman Atraya, vice president of Air Dynamic.
He said that his airline was targeting the Buddhist market. "We will gradually increase our reach to other sectors," he added.
Domestic airlines are required to upgrade their infrastructure besides security and operational integrity to get a license to operate on international routes. Potential carriers are required to possess a certain fleet size and commercial experience to fulfil the terms of reference.
The Ministry of Tourism and Civil Aviation has recently amended the civil aviation regulations requiring hopeful international airlines to put up a security bond of Rs. 5 million and have a paid-up capital of Rs. 500 million. The terms of reference document costs Rs. 50,000.
An airline that has fulfilled the terms of reference to go international must obtain an air operator certificate (AOC) within six months and start flights within a year after getting it.