Tribhuvan Int'l Airport equipped with passport reading devices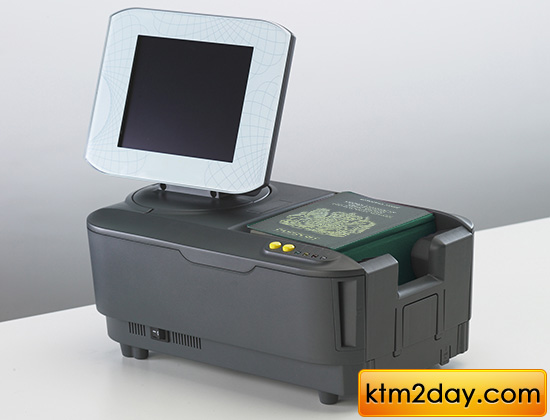 The Department of Immigration (DoI) has installed 18 passport reading devices at Tribhuvan International Airport (TIA) even as the controversy surrounding the bidding process for printing machine readeable passports (MRP) has dashed any hope of timely introduction of the technology.
DoI said that devices have been installed at the departure and arrival zones of the airport for reading the machine readable passports of foreign nationals and electronically recording their passport details.
"We have installed the devices and brought the system into implementation recently. The devices are currently in operation," DoI chief Narayan Sanjel said, adding, "The devices will help curb criminal activities involving misuse of passports."
The devices will check whether passports details are accurate. "The devices will discourage the use of fake passports," he added, "It will also help keep a systematic record of arrivals in Nepal from various countries and of departures, in different timeframes."
Particulars about passport holders will be stored in the computer automatically once their passports are checked by the devices. Immigration officials can check passport details instantly only if the passports are checked by the devices. To date, foreign nationals with machine readable passport are being checked manually by immigration officials. "Machine readable devices can be used if Trivhuwan International Airport Office provides the necessary aluminum and steel structures," he said adding, "It will also help make Nepal Tourism Year-2011 a success," he said.
DoI chief Sanjel informed that they have installed ultraviolet (UV) lamps for Nepalis, whose passports are not machine readable. He added, "Such devices will ensure the passports being used by Nepali citizens are genuine."
Sanjel also divulged that they have been pondering about using passport and document investigation technology at the airport. "We are preparing to set up document investigation technology at the airport in a bid to curb the rampant trend of faking passports with fraudulent details and duplicate photographs," he added.