NEC launches ShieldPRO N22A rugged laptop in Nepal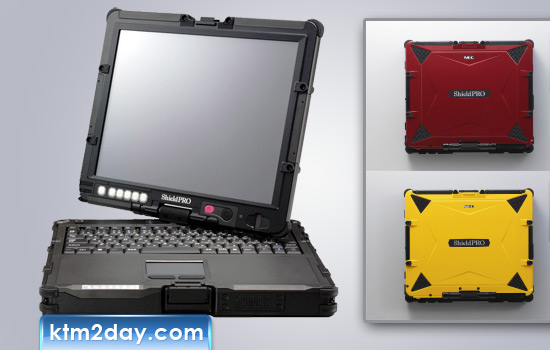 NEC has launched its notebook ShieldPRO N22A in the Nepali market.
This is a robust notebook designed and built to provide professionals with great performance even in the harshest environments.
This lightweight notebook is engineered to be tough but easy-to-use. This packs a range of advanced features to improve reliability, security, impact resistance, battery life, communications and functionality.
This notebook also features a touch panel with convertible tablet format along with security features like finger print recognition log-in system.
This notebook can withstand water and dust, extreme temperatures and had passed the drop, shock and vibration tests. This notebook sports a 12.1-inch TFT LCD monitor and a detachable HDD. This device is priced at NRs. 4 Lakhs.
NEC also launched its Express cluster X 3.0 series, a software solution that enables a non-disruptive continuity in the event of any disruptions.
Along with these products, NEC has also launched Masters cope Invariant Analyzer. This is a system performance analysis software that recognizes system failures and manages the trouble shooting for large scale computing system as that of telecom carriers, large business corporations and data centre operators.
All these products of NEC is supplied in Nepal by International Electronics Concern Pvt Ltd.