Apple iPhone Price in Nepal 2023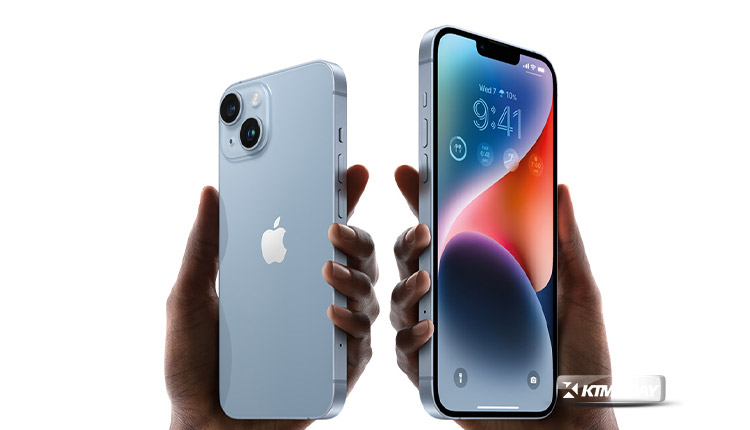 Apple iPhone Price in Nepal 2023
Although the iPhone 14 Pro and iPhone 14 Pro Max are more expensive, the iPhone 14 and iPhone 14 Plus are Apple's new "cheap" flagship iPhones, with pricing starting at $799.
In 2022, Apple discontinued the "mini" iPhone in favor of the 6.1- and 6.7-inch iPhone 14 models. With the new iPhone 14's 6.7-inch screen, Apple is calling it the "iPhone 14 Plus," a name that harkens back to the iPhone 8 and 8 Plus as well as earlier models.
Apple's iPhone 14 and iPhone 13 share the same design characteristics, including a flat edge profile, an aluminum chassis, and a glass back that supports wireless charging.
Color options for the iPhone 14 include blue, purple, midnight, starlight, and (PRODUCT)RED.
The TrueDepth camera, which debuted in the notch on the iPhone X, remains at the top of the display on the iPhone 14, as it did on the X Plus. Super Retina XDR OLED displays with 1200 nits peak brightness, 2,000,000:1 contrast ratio, Dolby Vision, and True Tone support for automatic white balance adjustment based on ambient light are included in both the iPhone 14 and iPhone 14 Plus, as they were in the previous generation of iPhones as well.
Standard iPhone 14 models don't have access to ProMotion display technology; it's reserved for the Pro editions of the iPhone 14.
iPhone 14 models are IP68 water resistant, meaning they can survive being submerged in water for up to 30 minutes at a depth of 6 meters. The display is protected by a tough Ceramic Shield front shell.
iPhone 14 models include the same A15 chip seen in the iPhone 13 Pro, but with a new and improved interior design, they offer improved thermal performance. There are 6 processing cores in the A15 CPU, 5 graphics processing cores, and 16 neural processing cores.
The 12-megapixel Wide camera has been enhanced with a bigger sensor of f/1.5 aperture, and larger 1.9 um pixels to increase low-light performance, and sensor-shift optical image stabilization has also been included.
While the Ultra Wide lens did not receive any upgrades, the Photonic Engine made improvements to low-light photography for all of the cameras in the iPhone 14 series.
The Photonic Engine is a hardware/software combo that boosts low-light performance on the Ultra Wide camera by 2 times, on the TrueDepth camera by 2 times, and on the Wide camera by a factor of 2.5. The Photonic Engine is an enhancement to Deep Fusion that allows for even greater realism by maintaining finer textures and enhancing color.
Action mode is available for shooting video and produces footage that is both stable and fluid.
Even when capturing video in the thick of action, the Action mode can compensate for substantial shaking, motion, and vibrations.
New and upgraded cinematic mode supports both 4K at 30 fps and 4K at 24 fps. Light from the True Tone flash is more constant since it is brighter by 10% and more evenly distributed.
The Crash Detection feature on the iPhone 14 models is powered by a dual-core accelerometer that can measure up to 256Gs and a high dynamic range gyroscope that can automatically contact emergency personnel in the event of a catastrophic accident where the user is incapacitated.
Apple uses a variety of sensors to power this feature, including a barometer to detect shifts in cabin pressure, a GPS to monitor for sudden changes in speed, and a microphone to pick up on impact sounds.
Apple iPhone 14 /Plus/Pro /Max Price in Nepal 2023
Image
Model
Price NRs.
iPhone 14 Pro Max - Full Details
128 GB - Rs. 2,14,990
256 GB - Rs. 2,34,990
512 GB - Rs. 2,74,900
1 TB - Rs. 3,14,990
iPhone 14 Pro - Full Details
128 GB - Rs. 1,94,990
256 GB - Rs. 2,14,990
512 GB - Rs. 2,54,900
1 TB - Rs. 2,99,990
iPhone 14 Plus - Full Details
128GB - Rs.173990
256GB - Rs. 192990
512GB - Rs.229990
iPhone 14 - Full Details
128GB - Rs.154990
256GB - Rs.173990
512GB - Rs.209990
iPhone 13 – 128 GB – Rs 139,900
iPhone 13 – 256 GB – Rs 156,900
iPhone 13 – 512 GB – Rs 191,900
iPhone 13 Pro – 128 GB – Rs 174,990
iPhone 13 Pro – 256 GB – Rs 191,490
iPhone 13 Pro – 512 GB – Rs 225,990
iPhone 13 Pro – 1 TB – Rs 260,990
iPhone 13 Pro Max – 128 GB – Rs 191,990
iPhone 13 Pro Max – 256 GB – Rs 208,990
iPhone 13 Pro Max – 512 GB – Rs 242,990
iPhone 13 Pro Max – 1 TB – Rs 277,990


Apple iPhone 12
64GB - Rs 1,20,900
128GB - Rs 1,28,900
256GB - Rs 1,44,900
Apple iPhone 12 Pro Max
128 GB – Rs 1,79,900
256 GB – Rs 1,96,900
512 GB – Rs 2,35,900
Apple iPhone 12 Pro
128 GB – Rs 1,63,900
256 GB – Rs 1,79,900
512 GB – Rs 2,19,900


Apple iPhone 12 Mini
64GB - Rs 1,12,900
128GB - Rs 1,20,900
256GB - Rs 1,36,900
Apple iPhone SE 2020
64GB - Rs. 70,000
128GB - Rs. 79,500
256GB - Rs. 96,000
Apple iPhone 11
64GB - Rs. 76,900
128GB - Rs. 84,900
256GB - Rs. 1,24,000
Apple iPhone XR
64GB - Rs. 80,000
128GB - Rs. 90,000

Apple IPhone 11 Pro Max
64GB - Rs. 1,80,000
256GB - Rs. 2,04,000
512GB - Rs. 2,37,000
Apple IPhone 11 Pro
64GB - Rs. 1,64,000
256GB - Rs. 1,88,000
512GB - Rs. 2,23,000
Apple iPhone SE
16 Gb
Gold, Rose Gold
35,000
Apple iPhone XS Max
– 64GB
– 256GB
Rs. 1,59,000
Rs. 1,75,000
Apple iPhone XS
– 64GB
– 256GB
– 512GB

Rs. 1,42,000
Rs. 1,59,000
N/A
iPhone X
SoC: Apple A11 Bionic APL1W72
CPU: 2x Monsoon, 4x Mistral, 2100 MHz, Cores: 6
RAM: 3 GB
Storage: 64 GB, 256 GB
Display: 5.8 in, OLED, 1125 x 2436 pixels, 24 bit
Battery: 2716 mAh, Li-Ion
Camera: 4032 x 3024 pixels, 3840 x 2160 pixels, 60 fps
Wi-Fi: a, b, g, n, n 5GHz, ac, Dual band, Wi-Fi Hotspot
USB : 2.0,Bluetooth : 5.0 , Weight : 174 g
Positioning: GPS, A-GPS, GLONASS, Wi-Fi, Cell ID
SIM card: Nano-SIM, OS: iOS 11
iPhone X Price in Nepal: Rs.146,000 (64GB)
iPhone X Plus Price in Nepal: Rs.167,000 (256GB)
N/A


iPhone 8 Plus
SoC: Apple A11 Bionic APL1W72
CPU: 2x Monsoon, 4x Mistral, 2100 MHz, Cores: 6
RAM: 3 GB
Storage: 64 GB, 256 GB
Display: 5.5 in, IPS, 1080 x 1920 pixels, 24 bit
Battery: 2691 mAh, Li-Ion
Camera: 4032 x 3024 pixels, 3840 x 2160 pixels, 60 fps
Wi-Fi: a, b, g, n, n 5GHz, ac, Dual band, Wi-Fi Hotspot
USB: 2.0,Bluetooth: 5.0,Weight: 202 g
Positioning: GPS, A-GPS, GLONASS, Wi-Fi, Cell ID
SIM card: Nano-SIM,OS: iOS 11
iPhone 8 Plus Price in Nepal: Rs.112,500 (64GB)
iPhone 8 Plus Price in Nepal: Rs.133,000 (256GB)
N/A


iPhone 8
SoC: Apple A11 Bionic APL1W72
CPU: 2x Monsoon, 4x Mistral, 2100 MHz, Cores: 6
RAM: 3 GB
Storage: 64 GB, 256 GB
Display: 5.5 in, IPS, 1080 x 1920 pixels, 24 bit
Battery: 2691 mAh, Li-Ion
Camera: 4032 x 3024 pixels, 3840 x 2160 pixels, 60 fps
SIM card: Nano-SIM
Wi-Fi: a, b, g, n, n 5GHz, ac, Dual band, Wi-Fi Hotspot
Positioning: GPS, A-GPS, GLONASS, Wi-Fi, Cell ID
USB: 2.0,Bluetooth: 5.0,Weight: 202 g , OS: iOS 11
iPhone 8 Price in Nepal: Rs.91,000 (64GB)
iPhone 8 Price in Nepal: Rs.119,500 (256GB)
N/A
Apple iPhone 7
32 GB
Gold,Rose Gold

N/A
Apple iPhone 7 Plus
128 GB
Gold, Black
68,000
Apple iPhone 6S Plus
32 GB
Gold,Space Gray
56,000
Apple iPhone 6S
32GB
Rose Gold,Gold
Silver,Space Gray
N/A

Apple iPhone 6 Plus - 16GB
Apple iPhone 6 Plus - 64GB
Apple iPhone 6 Plus- 128GB
N/A


Apple iPhone 6
128 GB
Gold
55,000
Apple iPhone 6
32 GB
45,000
Apple iPhone 5S- 16GB

N/A
Apple iPhone 5 -16 GB
N/A
Apple iPhone 4S- 32 GB
N/A
Apple iPhone 4S- 16 GB
N/A
Apple iPhone 4 -32 GB
N/A
Apple iPhone 4 -16 GB
N/A
Apple iPhone Price in Nepal 2023 - Updated on January 2023