Tribhuvan International Airport being renovated to increase facilities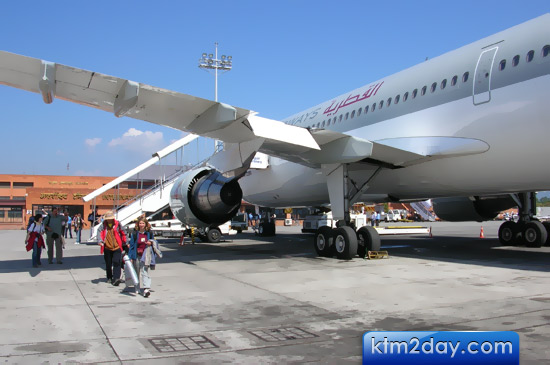 Tribhuvan International Airport (TIA), the country's sole international airport is getting some new infrastructure while the existing system is being renovated to increase facilities and enhance passenger processing capacity.
Officials at the Civil Aviation Authority of Nepal (CAAN), the regulatory body of the aviation sector, said that the renovation and construction works had been carried out through CAAN's internal budget considering the pressure on TIA to handle passengers' rush during the Nepal Tourism Year 2011 (NTY-2011). NTY's 100-days countdown began on Oct. 7, and the government as well as private sector is gearing the up for construction and renovation work more aggressively.
Due to inadequate modern facilities, TIA is compelled to face huge challenges because of the continuous traffic growth for the last couple of years.
TIA, which was designed to handle 1,300 passengers per hour, sometimes has to process over 2,000 passengers. The pressure is likely to mount as the country has targeted to attract an additional over one million inbound and outbound passengers' movement.
"We are using the CAAN's internal budget for the purpose although the overall TIA improvement project has been undertaken by the Asian Development Bank (ADB) funding," said CAAN's director general Ram Prasad Neupane.
According to him, the CAAN's internal improvement programme would not get in the way of ADB's TIA improvement project. "The renovation and construction work does not come under the detail design undertaken by TIA improvement project," he added.
Some short-term programmes like constructing a golden gate at the entry point, runway maintenance, radar antenna maintenance, sterile hall construction, billboards in different places and helicopter apron construction among other projects are on in full swing to enhance TIA's capacity.
The internal budget of CAAN will also be utilized for painting the building and improvement and cleaning of a restroom. All this immediate internal work will be completed before the NTY-2011 starts. The Ministry of Tourism and Civil Aviation has directed that the work be done at the earliest.
The country has targeted to bring 700,000 tourists by air during the campaign. The new international airlines connecting Nepal have created both opportunities and challenges for TIA. Currently, there are 28 international airlines operating in Nepal. According to the Tourism Ministry, international airlines in Nepal are estimated to reach over 32 soon.
In 2009, the TIA processed over 2 million (incoming and outgoing passengers). However, with the campaign target to bring over 700,000 tourists by air TIA should handle additional 1.4 million inbound and outbound passengers' movement.
TIA general manager Dinesh Shrestha said that the golden gate construction, laying marble slabs on the ground surface of the terminal and helicoptor parking areas are in the final stage. TIA has called a tender for gardening and welding of walls. "The remaining work will be accomplished soon," he said.