Nepal's 5 major roads to be upgraded to six-lane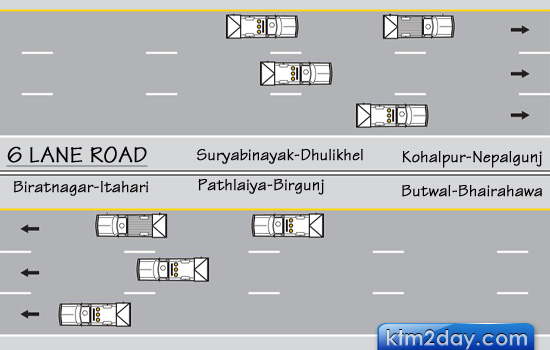 In an effort to ensure smooth flow of vehicles by lessening the ever growing traffic congestions, the government is planning to upgrade four strategic roads into six-lane ones.
Officials at the Ministry of Physical Planning and Works (MoPPW) told Republica that the upgrading works would be completed within three years.
Tulsi Prasad Sitaula, joint-secretary at MoPPW, said roads selected for upgrading are Suryabinayak-Dhulikhel section of Araniko Highway (21 km), Pathlaiya-Birgung road (25 km), Butwal-Bhairahawa road (25 km) and Kohalpur-Nepalgunj section (20 km) of East-West Highway and Biratnagar-Itahari road (20 km).
"We have selected the roads for upgrading on the basis of their strategic importance and economic significance. With the upgrading, we expect the flow of vehicles to and from customs points to ease," Sitaula added.
Asian Development Bank (ADB) has expressed commitment to provide $40 million for the upgrading of Butwal-Bhairawa road, Pathaiya-Birgunj section of Tribhuwan Highway and Kohalpur-Nepalgunj road into six-lane under its Sub-regional Transport Enhancement Project. Under the committed fund, the bank is also renovating Bhadrapur-Charali road and 18 km section of Mahendra Highway devastated by Koshi-floods in 2008.
Sitaula said detailed design for upgrading the Suryabinayak-Dhulikhel road into six-lane, including a service lane in each side, has already been completed. "Though the government is arranging certain budget for the upgrading of that section, we are also seeking interested donors to support the project," Sitaula added.
As per the initial estimate, the cost for upgrading a 21km road on par with the No 2 category of Asian Highway hovers around Rs 1.5 billion.Funding for the Biratnagar-Itahari road, however, has yet to be ascertained, according to Sitaula.
"We are in the process of preparing detailed designs of the projects. If we managed to arrange funds in time, we plan to complete the projects within the next three years," Sitaula added. He, however, informed that the plan to upgrade the Gaushala-Balkumari section of the Ring Road has been put off due to lack of funds.
The construction of first ever six-lane road in the country — the Tinkune-Suryabinayak road (9.1 km) — is underway under Japanese assistance. The first phase of the project — Tinkune to Jadibuti — has already been inaugurated.
Meanwhile, the Ministry of Tourism and Civil Aviation (MoTCA) has begun construction of cycle lane and side-walks from Sinamangal to Maitighar to facilitate smooth movement of people. The project was started keeping in view the Nepal Tourism Year 2011 campaign.
Roads selected for upgrading
Suryabinayak-Dhulikhel
Pathlaiya-Birgunj
Butwal-Bhairahawa
Kohalpur-Nepalgunj
Biratnagar-Itahari
(Source:Republica)