Ncell to launch 4G service in the near future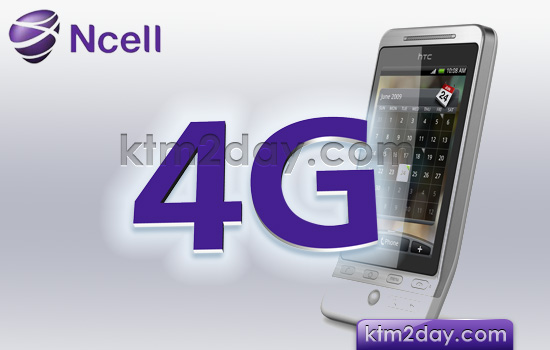 Nepalis may not have to wait long to use fourth generation or 4G communications technology. Ncell has applied to the Nepal Telecommunications Authority (NTA) for 4G spectrum to test the technology and Nepal Telecom (NT) has hinted that it could offer the service in the near future.
4G is the next complete evolution in wireless communications. It will provide a comprehensive internet protocol solution where voice, data and streamed multimedia can be given to users on an "anytime, anywhere" basis and at higher data rates than previous generations. It is also known as long-term evolution (LTE) and succeeds the current third generation (3G).
Ncell, the first private sector mobile operator in Nepal, has asked the NTA for frequency to test long-term evolution. The authority has also been doing homework in this regard. Earlier, NT and Ncell had applied for spectrum to offer telecom service based on WiMax technology. However, no spectrum has been allocated so far.
"We had sought spectrum for long-term evolution in the first week of October," said Ncell corporate communication manager Sanju Koirala. "There has been no response so far. We had asked for spectrum to conduct tests of this latest technology in 2011."
She added that the technology was an upgrade to 3G and was the new horizon in the broadband sector that offers up to 100 Mbps of download capacity. The technology will have an uplink capacity of 50 Mbps. Ncell's investment partner TeliaSonera had launched long-term evolution service in Stockholm and Oslo on Dec. 14 last year branding the service as 4G for the general people.
NT, the largest telecom operator in the country, has hinted that it could adopt the technology in the future. "We are aiming to add five million GSM subscribers in the near future and we could go for 4G based on the situation after that," said a NT board member. He added that since they were the first operator to offer 3G service in South Asia, they would most probably go for 4G. With new technologies being released rapidly, it could be a challenge for the government to allocate spectrum to make the 4G service available in Nepal. Earlier, the government had allocated 3G spectrum to telecom operators free of cost, and major telecom operators have not released the frequencies allocated to them for temporary use in the GSM network.
"The NTA will allocate spectrum based on the recommendation of the Radio Frequency Policy Determination Committee for long-term use," said director Ananda Raj Khanal. "As for testing purposes, spectrum can be provided by a ministerial-level decision."
Ncell has asked for a frequency in the range of 700 to 2,600 MHz and plans to offer 4G service in remote, semi-urban and urban areas. 4G and WiMax are the latest technologies in the telecom sector.
According to the NTA, it had recommended to the committee to allocate spectrum to WiMax, however, no concrete decision has been made so far because preparations have not been completed. It is also working on a policy to allocate 4G spectrum.
The policy will determine whether spectrum will be allocated free or through an auction, to new or existing operators and to one or more than one operator. "Since 4G is a new technology, we need to come up with a new policy, and homework in this regard is being done," said Amar Sthapit, deputy director at the Engineering Section of the NTA.(Source:ekantipur)
Spice Nepal now Ncell Pvt. Ltd.
Spice Nepal Private Limited, the operator of GSM mobile service under the brand name of Ncell, has changed its company name into Ncell Private Limited. Office of the Company Registrar had approved the change on Oct 27, officially.
"All the legal procedures have been completed. Now, we are preparing to implement it practically at the earliest," said Sanju Koirala, corporate communication manager, Ncell. She said the name had been changed to make subscribers more aware about the brand.
Earlier, the company had re-branded its brand name from Mero Mobile to Ncell on March 12, 2010. The company was established as the first private mobile service operator in Nepal in 2004 and had started service in 2005.
TeliaSonera, the fifth largest telecom company in Europe, had acquired controlling interest in it with 80 percent of share investment in October 2008.(Source:ekantipur)