Beats Headphones Earphones & Speakers Price in Nepal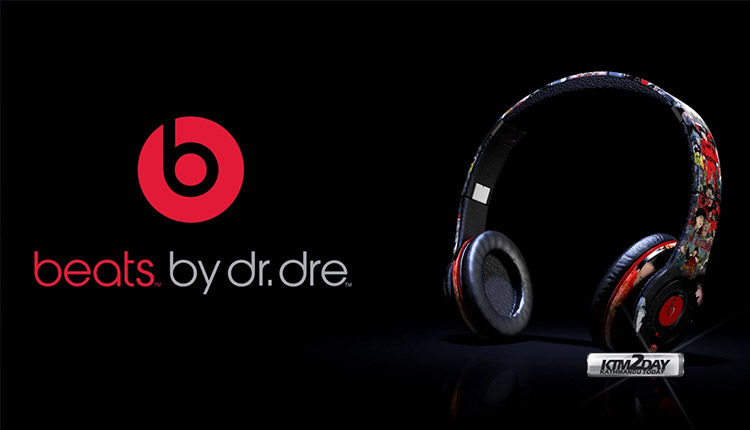 Beats Headphones Price in Nepal
Beats Electronics(also known as Beats by Dr. Dre, or simply Beats by Dre) is a division of Apple Inc. that produces audio products. Headquartered in Culver City, California,the company was founded by music producer and rapper Dr. Dre and Interscope Records co-founder Jimmy Iovine.
The subsidiary's product line is primarily focused on headphones and speakers. The company's original product line was manufactured in partnership with the AV equipment company Monster Cable Products. Following the end of its contract with the company, Beats took further development of its products in-house.
Beats was later sold to Apple for US$3.2 billion—the largest purchase in Apple's history, ahead of its US$429 million purchase of NeXT in 1996.
Beats by Dr. Dre Powerbeats3 Wireless Earphones (Black)
Bluetooth Wireless Pairing
Apple W1 Chip for Quick Pairing
Simultaneous Pairing with iOS Devices
Secure Wingtips
RemoteTalk Controls Music, Calls & Siri
Built-In Rechargeable Battery
12-Hour Battery Life
5-Minute Charge for 1 Hour of Play
Includes 4 Sets of Eartips & Carry Case
Included Charging Cable
Rs.25,500
Beats by Dr. Dre Beats Pill+ Portable Speaker Black
Equipped with Bluetooth Wireless
Charge External Accessory Devices
Pair 2 Pills+ for Stereo Function
Built-In Speakerphone
Plays Up to 12 Hours
Soft Carrying Case Included
Rs.22,500
Beats by Dr. Dre Beats Pill+ Portable Speaker White
Equipped with Bluetooth Wireless
Charge External Accessory Devices
Pair 2 Pills+ for Stereo Function
Built-In Speakerphone
Plays Up to 12 Hours
Soft Carrying Case Included
Rs.22,500
Beats by Dr. Dre Beats Solo3 Wireless On-Ear Headphones (Rose Gold)
Bluetooth Wireless Pairing
Apple W1 Chip for Quick Pairing
Simultaneous Pairing with iOS Devices
Included 3.5mm RemoteTalk Cable
Clear, Balanced Sound & Noise Isolation
On-Board Music, Call & Siri Control
Built-In Rechargeable Battery
40-Hour Battery Life
5-Minute Charge for 3 Hours of Play
Includes Carry Case & Charging Cable
Rs.34,500
Beats by Dr. Dre Beats Solo3 Wireless On-Ear Headphones (Gloss Black)
Bluetooth Wireless Pairing
Apple W1 Chip for Quick Pairing
Simultaneous Pairing with iOS Devices
Included 3.5mm RemoteTalk Cable
Clear, Balanced Sound & Noise Isolation
On-Board Music, Call & Siri Control
Built-In Rechargeable Battery
40-Hour Battery Life
5-Minute Charge for 3 Hours of Play
Includes Carry Case & Charging Cable
Rs.34,500
Beats by Dr. Dre Beats Solo3 Wireless On-Ear Headphones (Gold)
Bluetooth Wireless Pairing
Apple W1 Chip for Quick Pairing
Simultaneous Pairing with iOS Devices
Included 3.5mm RemoteTalk Cable
Clear, Balanced Sound & Noise Isolation
On-Board Music, Call & Siri Control
Built-In Rechargeable Battery
40-Hour Battery Life
5-Minute Charge for 3 Hours of Play
Includes Carry Case & Charging Cable
Rs.34,500
Beats by Dr. Dre Beats Solo3 Wireless On-Ear Headphones (Silver)
Bluetooth Wireless Pairing
Apple W1 Chip for Quick Pairing
Simultaneous Pairing with iOS Devices
Included 3.5mm RemoteTalk Cable
Clear, Balanced Sound & Noise Isolation
On-Board Music, Call & Siri Control
Built-In Rechargeable Battery
40-Hour Battery Life
5-Minute Charge for 3 Hours of Play
Includes Carry Case & Charging Cable
Rs.34,500
Beats by Dr. Dre Beats Solo3 Wireless On-Ear Headphones (Gloss White)
Bluetooth Wireless Pairing
Apple W1 Chip for Quick Pairing
Simultaneous Pairing with iOS Devices
Included 3.5mm RemoteTalk Cable
Clear, Balanced Sound & Noise Isolation
On-Board Music, Call & Siri Control
Built-In Rechargeable Battery
40-Hour Battery Life
5-Minute Charge for 3 Hours of Play
Includes Carry Case & Charging Cable
Rs.34,500
Beats by Dr. Dre Studio3 Wireless Bluetooth Headphones (Matte Black)
Bluetooth Wireless
Pure Adaptive Noise Canceling
Built-In Mic for Taking Calls
Integrated Controls for Siri
On-Headphone Controls
Cushioned Earcups
Up to 22 Hours of Battery Life with ANC
Includes RemoteTalk Cable for Wired Use
Includes Case and Charging Cable
Rs.45,000
Beats by Dr. Dre Studio3 Wireless Bluetooth Headphones (White)
Bluetooth Wireless
Pure Adaptive Noise Canceling
Built-In Mic for Taking Calls
Integrated Controls for Siri
On-Headphone Controls
Cushioned Earcups
Up to 22 Hours of Battery Life with ANC
Includes RemoteTalk Cable for Wired Use
Includes Case and Charging Cable
Rs.45,000
Beats by Dr. Dre Studio3 Wireless Bluetooth Headphones (Porcelain Rose)
Bluetooth Wireless
Pure Adaptive Noise Canceling
Built-In Mic for Taking Calls
Integrated Controls for Siri
On-Headphone Controls
Cushioned Earcups
Up to 22 Hours of Battery Life with ANC
Includes RemoteTalk Cable for Wired Use
Includes Case and Charging Cable
Rs.45,000
Beats by Dr. Dre Studio3 Wireless Bluetooth Headphones (Shadow Gray)
Bluetooth Wireless
Pure Adaptive Noise Canceling
Built-In Mic for Taking Calls
Integrated Controls for Siri
On-Headphone Controls
Cushioned Earcups
Up to 22 Hours of Battery Life with ANC
Includes RemoteTalk Cable for Wired Use
Includes Case and Charging Cable
Rs.45,000