Prolink TW8 Windows Tablet PC launched in Nepali market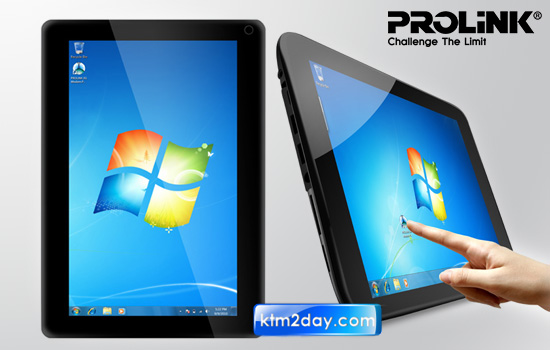 SHTC International P. Ltd, the exclusive distributor of Prolink electronics, has launched Prolink TW8 tablet PC in the Nepali market. The 11.6-inch touch screen tablet is the first Windows 7-based tablet to be launched in the country.
The TW8 runs on Intel Atom N450 processor and comes with 32 GB SSD storage capacity and 1GB DDR2 memory. "Weighing less than 1 kg, the TW8 is a lightweight and a practical alternative for users who prefer the convenience of a touch screen while working on a familiar Windows-based user interface," said press release of the company.
The tablet has built-in Wi-Fi, option of high-speed 3.75G connectivity and Bossa Nova User Interface, which makes the running of web applications and social media platforms an easy task.
Windows applications such as Windows Live Messenger, Paint, Calculator, Windows Media Player have also been pre-installed in the tablet.
"With its sleek casing and additional features such as USB ports, 1.3MP web camera and Bluetooth 2.1 + EDR, the TW8 is both stylish and user-friendly," read the press release.
TW8's 3-axis sensing display orientation allows users to view screen in landscape or portrait modes effectively. Prolink is giving a bubble-free screen protector and a free original TW8 casing with the purchase of TW8's for free.
The tablet is priced at Rs. 65,000.