NTB and NAC takes part in TITF 2011 Bangkok fair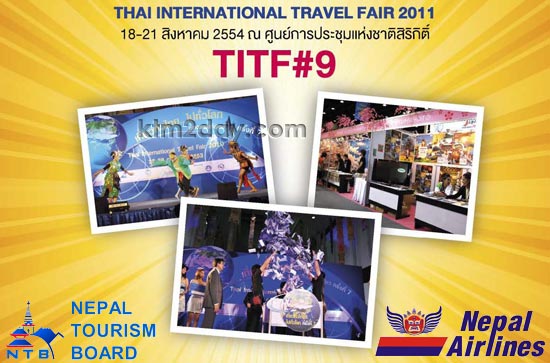 Nepal Tourism Board (NTB) along with Nepal Airlines Corporation and Red Lion Travel and Tours (P) Ltd participated in the Thai International Travel Fair (TITF) 2011.
According to an NTB release, the fair was held in the Thai capital city of Bangkok from February 24-27. TITF is a top-ranked tourism fair at the global level. It is dedicated to promotion of trade and tourism.
About four million people visited the fair. There were 1,132 exhibitors' stalls along with seventeen National Tourism Organisations. The fair showcased various products in tourism and gave special platform to tour operators, travel agencies, MICE, hotel chains and airlines to meet prospective business partners and visitors.
NTB's participation in TITF 2011 was to garner support and cooperation from travel trade fraternity, press, and general public for enhancing sustainable and eco-friendly tourism image of the country. Some tour companies showed interest in operating tour packages in Nepal in the upcoming holiday for Thai visitors. Thai Orchid Tour said it signed an MoU with a Nepali company for ground handling and will start tour packages for Nepal.
NTB has successfully organised Sales Mission from February 21-25 in Pune, Nagpur and Ahmedabad. According to NTB, it received a lot of queries and interest shown for NTY 2011.
A press conference and B2B session which was well attended by media and key travel trade entrepreneurs were held at Pune, Nagpur and Ahmedabad on February 21, 23 and 25, respectively during the Sales Mission.
The safety and security of potential Indian travellers were ensured through the medium of presentations and interactive sessions during the programme, the press release said.
Representatives of Travel Agents Association of India (TAAI) in Pune, Nagpur and Ahmedabad actively participated in the event and have committed Nepali counterparts that they would promote Nepal more aggressively in the year 2011 to support Nepal's latest endeavour.(Source:THT)